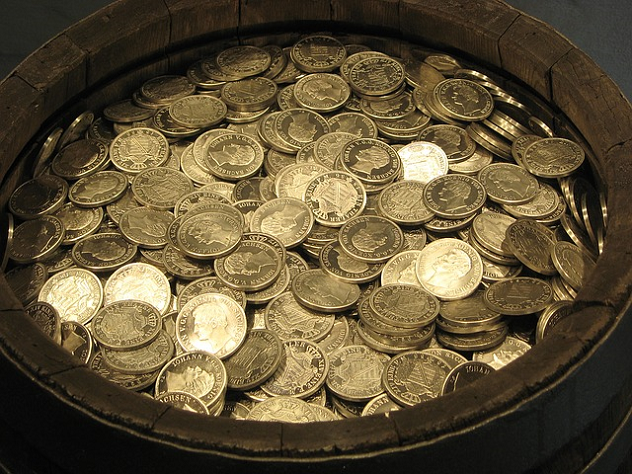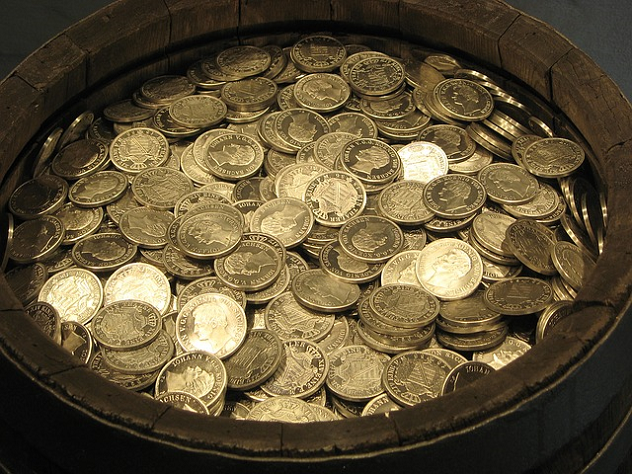 Loot-a-Day, Day 16: Flying treasures
Treasure Pod
When Rogue Trader Hermann von Antioch found his flotilla being overwhelmed by an unknown xenos threat, his first thoughts were of the trophies, treasuresm assets and antiquities he had on board his flagship. He thus gave order to load as many of these as possible into his personal escape pod. Too late did he realize, that there was no more room for himself after the servitors were done storing only his most prized possessions. Before he had the chance to correst his mistake, a massive strike from one of the xenos vessels broke his ship's spine and – dumbly dutiful to the last – the emergency cogitators launched the pod into the black void of space.
So immense is the value of the treasure pod's contents, that recovering it will immediately lend +1 Profit Factor. Also, it may well contain any number of items of individual value, interest … or danger, from rare and exotic weapons or art to books or artefacts.
Why Rogue Trader?
This one took a bit of a winding path until it arrived at Rogue Trader. The first idea was to do something like a precicous gas, then there was a jump to all manner of flying palaces, cloud- and spaceships as treasure, from there it went on to spaceships full of treasure to then finally arrive at the escape treasure pod.
---
Loot-a-Day is a month-long German blogging challenge by fellow German blogger Greifenklaue, who was inspired by ArtifactaDay which we ran last August as a counterpoint to RPGaDay in Germany. We followed up on this with two more marathons of daily content about artificial creatures and science-gone-too-far, respectively, and now Greifenklaue seeks to spread the format.
---
Games Workshop, Warhammer 40,000, Warhammer 40,000 Roleplay, Dark Heresy, Deathwatch, Rogue Trader, Black Crusade, Only War and all associated marks, logos, names, and products are Intelectual Property of Games Workshop Limited and protected by Copyright. These items have been used unofficially and quoted exclusively as reference with no infringement on any associated rights intended and without implying endorsement by the copyright holder. Other contents of this article are published without permission or license.
Games Workshop, Warhammer 40,000, Warhammer 40,000 Roleplay, Dark Heresy, Deathwatch, Rogue Trader, Black Crusade, Only War und alle zugehörigen Marken, Logos, Namen, und Produkte sind Geistiges Eigentum von Games Workshop Limited und urheberrechtlich geschützt. Diese Elemente wurden inoffiziell und ausschließlich als Referenz zitiert ohne die Absicht damit verbundene Rechte anzufechten und ohne eine Billigung durch den Rechteinhaber zu implizieren. Andere Inhalte dieses Artikels werden ohne Genehmigung oder Lizenz veröffentlicht.