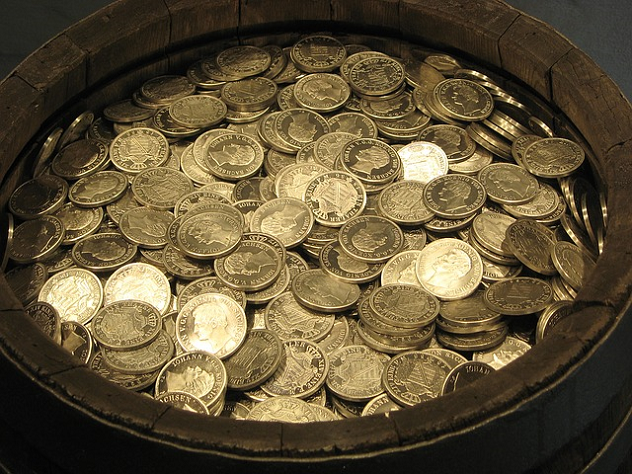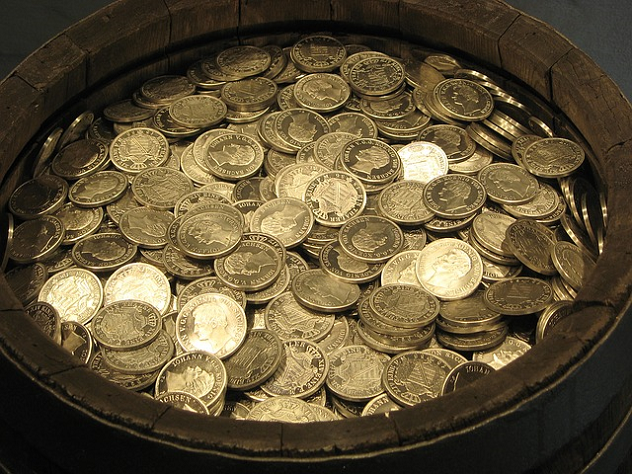 Loot-a-Day, Tag 16: Fliegende Schätze
Schatzkapsel
Als sich beim Kampf gegen ein unbekanntes Xenos-Raumschiff das Glück gegen ihn und sein Schiff zu wenden begann, galt der erste Gedanke von Freihändler Hermann von Antioch seinen an Bord befindlichen Schätzen und Trophäen, mit denen er seine persönliche Rettungskapsel beladen ließ. Nachdem er seine kostbarsten Besitztümer verstaut hatte, musste er allerdings feststellen, dass es für ihn selber keinen Platz mehr gab. Noch eher er diesen Fehler korrigieren konnte, wurde sein Schiff tödlich getroffen und in dumpfer Pflichterfüllung schoßen die Notfallkogitatoren die Kapsel in die Schwärze des Raumes hinaus.
Der Wert des Inhalts der Schatzkapsel ist so immens, dass ihre Bergung +1 Profitfaktor einbringt. Außerdem könnte sie allerlei in sich interessante Gegenstände enthalten, von seltenen Waffen und Kunstwerken hin zu Büchern oder Artefakten.
Warum Rogue Trader?
Der Pfad hierhin war etwas verworren und lief nach einem Sprung von Gasen zu mehreren Versionen von fliegenden Palästen, Wolken- und Raumschiffen als Schätzen schließlich zu einem solchen Schiff voller Schätze und von dort zur vorliegenden RettungsSchatzkapsel.
---
Loot-a-Day ist eine Begleitaktion zu Greifenklaues "Geld, Gold & Schätze"-Thema beim Karneval der Rollenspielblogs, inspiriert von unserer Gegenaktion zu RPGaDay, ArtifactaDay, die wir letztes Jahr im Rahmen von Merimacs "Artefakte"-Karneval gestartet haben und an die wir seit dem auch noch ebenfalls karnevalsgestütze Aktionen mit täglichen Kunstwesen und zuletzt täglichen Auswüchsen der Wissenschaft angeschlossen haben.
---
Games Workshop, Warhammer 40,000, Warhammer 40,000 Roleplay, Dark Heresy, Deathwatch, Rogue Trader, Black Crusade, Only War and all associated marks, logos, names, and products are Intelectual Property of Games Workshop Limited and protected by Copyright. These items have been used unofficially and quoted exclusively as reference with no infringement on any associated rights intended and without implying endorsement by the copyright holder. Other contents of this article are published without permission or license.
Games Workshop, Warhammer 40,000, Warhammer 40,000 Roleplay, Dark Heresy, Deathwatch, Rogue Trader, Black Crusade, Only War und alle zugehörigen Marken, Logos, Namen, und Produkte sind Geistiges Eigentum von Games Workshop Limited und urheberrechtlich geschützt. Diese Elemente wurden inoffiziell und ausschließlich als Referenz zitiert ohne die Absicht damit verbundene Rechte anzufechten und ohne eine Billigung durch den Rechteinhaber zu implizieren. Andere Inhalte dieses Artikels werden ohne Genehmigung oder Lizenz veröffentlicht.