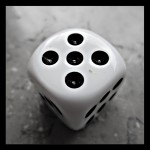 After we talked about a few aspects of copyright related to role playing games there were a number of comments defending the stated cases on behalf of the users of protected content. This offers a brilliant introduction to another aspect of the debate.
In many cases it seems pretty obvious thta the user is on the safe side. But there are two stumbling blocks, nonetheless:
First, law is not justice. Especially in the cases where there is some leeway for interpretation (like with "originality") there are numerous judicial tripwires, which a layman might be unaware of and then the employed lawyer quickly becomes the decisive factor. And thus we get to the second stumbling block. If it comes to a legal dispute, both sides have to consider if they want to put up with the money, time and publicity such a dispute causes. Even for the winner of such proceedings the costs are often considerable. The potential negative publicity works in favor of the users, but looking at costs and time, the rights owner usually has more pull. Then there is the cease-and-desist industry, which is aiming for outright intimidation in many cases involving copyright and is calculating with the assumption that the recipient will probably not risk a law suit.
Finally, it should not be forgotten that in disputes about copyright the burden of proof often rests with the user. That there was a copyrighted underlying work is pretty obvious in most cases. If you take a look at the direction of current legislative initiatives you will find that laws shall be tightened so even the suspicion of copyright violation is enough to warrant a reversal of the burden of proof and in extreme cases even allows punitive measures to be taken which can only be revoked after the fact.
The whole issue gets a whole lot more complicated if you are actually publishing fan content. While copyright violations by regular role playing gamers is simply difficult to show, published fan content isd visible to anybody. It is nearly unavoidable to use protected names, trademarks and other content owned by the copyright holders, without totally garbling the respective article. The common practice of disclaimers, which is used to refer to the actual copyright owner and to declare the intention to not infringe on copyrights is disputed. The legal validity of such statements is doubtful, but a Disclaimer shows that you are fully aware of the fact that you are using copyrighted material – which could even proof disadvantageous in a law suit.
The issue becomes again even more complicated by the different law regulations in different countries. For legal reasons, we decided to host d6ideas.com with a German provider owning servers in Germany only to be at least physically clearly located in Germany. Nonetheless, our material is internationally available and the underlying work is often covered by US, British or other copyright. Now, copyright in the Anglo-Saxon law sphere and German "Urheberrecht" are at least similar, but especially in the area of "derivative work"/"Bearbeitung" there are some significant differences.
Next week we will take a look on some more constructive ideas about copyright, this week we have the following articles first:
Blut_und_glas delivers Marine Hybrides for Blue Planet, on Tueday in German and in English.
Wednesday we have a German article on magic in FATE in German for you.
This week will be completed by an article about BPN Halls for SLA Industries, in English and in German on Thursday.