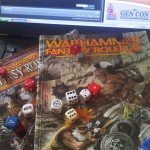 All good things come in threes, as the saying goes, and with that welcome to the third week at d6ideas and our third editorial. After the other two members of our chief triumvirate already published an editorial, I speak up as third one to get you tuned for the things to come.
For starters, I'm glad we already may welcome our first new members, especially since they are primarily artists so we will be able to present one or the other illustration of our own in the near future.

Additionally, I would like to point out that d6ideas got the inevitable Facebook-page in the meantime, so if you like what we are doing here, forward to Facebook and become a friend! Just look for d6ideas as profile.
But now back again to the articles for this week. We open up the week on Monday with an English article by Dr. Gonzo. Here we learn more about the Ale Wraith, a monster for Warhammer Fantasy. The Ale Wraith is the Ghost of somebody who died on the booze and now haunts the alleys he once staggered through.
Gen Con is over, too, so our editor-in-chief is available again. An applicable article on Gen Con will be provided by ApokalypseTest on Thursday in English, giving some basic advice on how-to GenCon and how-not-to.
Again we wish you good times while reading this week, pop in to our discussion board and if you would like to publish something of your own at our site, just message us.
Nogger