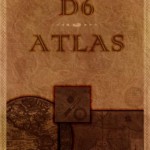 Once more a new atlas page.
I thought I was done with the illustrations for the German RPG Seelenfänger, but I overlooked one of them, that fits in here. A deck plan for a ship.
I took some liberties and probably a ship like that never sailed the seas. The space could have been better utilised, but who is to say all ships have to have the most efficient layout? I, for one, am happy with the results and hope that some of you will find a use for this even outside of the adventure the plans were originally created for.
Page one, two, three and four of the d6 atlas can be found here, here, here and here .