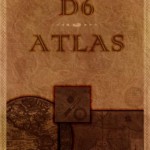 Welcome to the next atlas page. It continues the trend established by the last couple of pages, once more showing a map drawn in a different style.
What we have here is a small settled archipelago right in the middle of nowhere – not quite the typical Western fantasy fare either.
Page one, two and three of the d6 atlas can be found here, here and here.