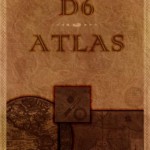 Hi there and welcome to the second page of The D6 Atlas. This one is even a double page if you want. This map is available as with or without labeling.
The version with labeling was made for the German Seelenfänger RPG which will hit the web roughly around the turn of this year. To be more precise: It was made for the Adventure Sourcebook they are making.
As this one is going to have a few more Ilustrations from me.. well The D6 Atlas has enough pages for them all.
Here you can find page one of the D6 Atlas.