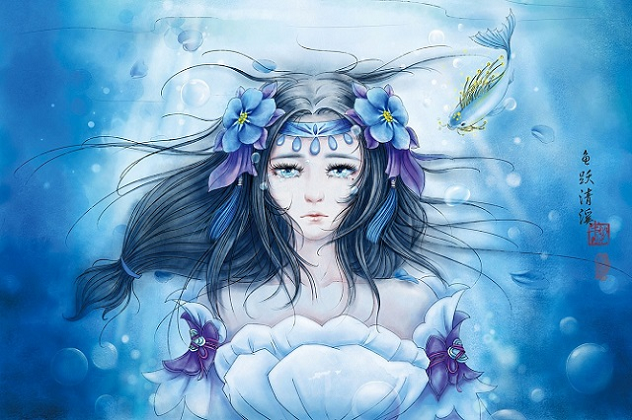 Nixs, the Masters of Emotions
I think an aquatic player race is lacking in D&D. It is a classical folklore figure, the Nix, the Siren, the Rusalka. However, it is hard to design in my opinion, because their main feature being able to live underwater is conditional at best. The Little Mermaid is quite a good inspiration, I think. Her voice is the focus of the story and the Siren's song is the classic folklore counterpart. So here is my take on the Nix, which probably spends most of her time on two legs on land.
Nix
Nixs have an upper body which resemble humans but have a fish tail. They tend to have a deep love for music and many of them become bards. They have natural magic abilities tied to their voice and prefer protein rich food.
Ability Score Increase. Your Charisma score increases by 2. Your Constitution score increases by 1.
Age. Nixs age at about the same rate as humans.
Alignment. Due to the strict rule of their lords, Nixs tend to be lawful.
Size. Nixs range from under 5 to over 6 feet tall and have athletic builds. Your size is Medium.
Speed. Your base walking speed is 5 feet. Your swim speed is 30 feet.
Amphibious. You can breathe air and water.
Speak with Aquatic Animals. Through sounds and gestures, you can communicate simple ideas with beasts, which possess a natural swim speed. Nixs tend to keep a favored fish as their pet. Nix knights usually have a close connection to their riding sea horse.
Change Shape. Once per long rest, you can change your fish tail into two legs or vice versa as a bonus action. While having legs, you lose your racial swim speed and your base walking speed increases to 30 feet.
Song Magic. You know the dancing lights cantrip. When you reach the 3rd level, you can cast the suggestion spell with an increased range of 120 feet as a 2nd level spell once with this trait, and you regain the ability to cast it this way once you finish a long rest. Charisma is your spellcasting ability for these spells and you only need to perform the verbal component of these spells when using this trait.
Languages. You can speak, read and write Common and Aquan.
The Enchantment Problem
In Another Look At Intelligence I described the problem with Illusion magic and proposed a solution. Enchantment magic has a similar problem. Immunities against charm and fear effects are widely available early on in the game making Enchantment focused mages often useless. When designing the Nix, whose strongest ability is a charm effect, I finally wanted to address this problem and I think a simple feat might be a good solution.
Master of Emotions
You have learned to manipulate the emotions of others, while being perfectly calm yourself. You gain the following benefits:
You are immune against being charmed and frightened.
Targets of your racial traits, class features, spells or other special abilities have disadvantage on saving throws against being charmed or frightened by you. If a target would normally be immune against the condition, it cannot utilize the immunity but has advantage on the saving throw instead.