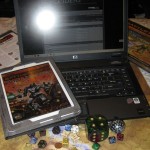 Since I like to write about my thoughts (and about the project as a whole), I would like to address a topic that everyone who ever tried to make a fanzine, put up a web page or some other project of the same scope is likely to be familiar with. Essentially the conflict between the necessary work such a undertaking requires and the actual interests why one started doing the thing for originally.
As mentioned before, D6ideas was created out of a deep urge to finally act on the impulse of creating new playable content and also presenting this content to a (hopefully) interested audience. When you begin to make the transition from an idea or concept into actual work, it quickly becomes apparent that there are way more details to be taken into consideration than thought of beforehand:
You want a forum? You need forum rules. A web page? Got to have terms of Service and all the legal details that entails. You have to consider what software to use, what provider to use for the hosting and all these decisions are finally depending on the scope you visualize for the project in the future. We see ourselves expanding and growing (hopefully quite a bit), so we chose Drupal as our platform instead of the ubiquitous (but less well scaling) WordPress.
Once the whole thing is up and running, the work doesn't stop. Who is responsible for getting artwork in time? Who proofreads and edits the articles? Where do we find a suitable peer reviewer? Who is going to layout the texts?
And that is still not the end of it. For example, the site design is still, well, somewhat generic (That's why we have the fat Alpha!!- stamp in the upper right corner). Some poor, eager soul will have to work on some new designs. And once we are done discussing and have settled on one, another person will have to implement that design. And all those "chores" take up time, time that was initially meant to spend on satisfying the urge to write content.
By now it should be easy to see, that one person (or two) could not have done this (at least not without spending a lot of time just on the technical side of things). We needed help. And we had help – a lot. And therefore I would like to thank all those that spend hours and hours and hours during the last weeks and months realizing this project, our project, much of it invisible from the outside. Thanks to Dave for the technical work and the implementation of the system with front- and backend, Nogger for writing all the formal documents (Terms of Service, Legal notes etc.), all the last minute layout for articles due ten minutes ago and his PR work. Hasran for his last minute photoshop artwork and Blut_und_Glas for working up a huge archive of texts and writing and finishing those last minute articles in time of need.
And to be honest, I know some will think "wtf is this sycophantism?", but to me it is thanking where thanks are due. D6ideas is a team project and we did and do need all the help we can get to make this work (and yeah – that includes me :D).
And without further ado, I give you … this weeks articles:
On Monday, Dave takes us to a trip into the world of progress with his interview of the upcoming Straight Edge musician Josh Harnet. This is an English article for SLA industries.
On Thursday we will present an adventure for Feng Shui taking place in south-east Asia. This newest piece of playable material is written by Nogger. (And just to mention it – this the overall 34th article and the eights RPG system that gets an article all for itself – not too shabby for 7 weeks of work…)
I hope you'll enjoy reading this weeks material,
ApokalypseTest