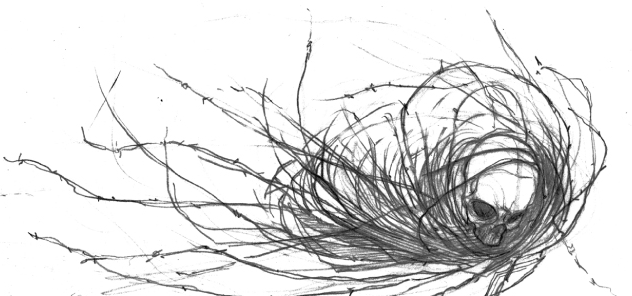 Wire Whip
Made from the same dark iron used to reforge the souls of those Immortals who willingly become the eternal guardian-slaves of the State in the Spirit Realm, a wire whip is a weapon much feared and hated by other spirits.
Wire whips are whips. All attacks with them count as infused.
A character with an exotic weapon proficiency wire whip gains the following additional advantage: Each succesful attack with a wire whip versus a target with an PHE pool, such as an Immortal, causes the target to lose 1d4 points of PHE. If the attacker als has access to an PHE pool, these points are then added to the attacker's pool.
A wire whip's Purchase DC is 23 (illegal +4).
---
The artwork is taken from the concept sketches for The Sword of Lies and was used with kind permission of Christian Gossett.
The Red Star and all related characters are ™ and © Christian Gossett. Used with kind permission.
The Red Star Campaign Setting is © Green Ronin Publishing, LLC.
Die Grafik stammt aus den Konzeptskizzen für Schwert der Lügen und wurde mit freundlicher Genehmigung von Christian Gossett verwendet.
The Red Star und alle verwandten Charactere sind ™ und © Christian Gossett. Verwendet mit freundlicher Genehmigung.
The Red Star Campaign Setting ist © Green Ronin Publishing, LLC.