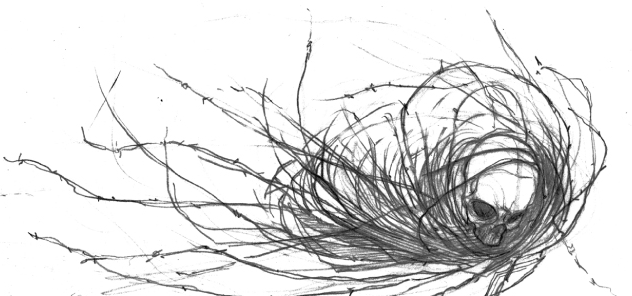 Drahtpeitsche
Aus dem selben dunklen Eisen gefertigt, aus dem auch die Seelen jener Unsterblicher neu geschmiedert werden, die aus freien Stücken zu den Vollstrecker-Sklaven des Staates in der Geisterwelt werden, werden Drahtpeitschen von anderen Geistern gleichermaßen gefürchtet wie gehasst.
Drahtpeitschen sind Peitschen. Alle Angriffe mit ihnen zählen als aufgeladen (infused).
Ein Charakter, der Drahtpeitsche als exotische Waffen beherrscht, erhält folgenden zusätzlichen Vorteil: Jeder erfolgreiche Angriff mit einer Drahtpeitsche gegen ein Ziel, das über einen PHE-Pool verfügt (wie beispielsweise ein Unsterblicher), raubt dem Ziel 1W4 Punkte PHE. Besitzt der Angreifer ebenfalls Zugriff auf einen PHE-Pool, so werden diese Punkte seinem Pool gut geschrieben.
Drahtpeitschen haben einen Kauf-SG von 23 (illegal +4).
---
The artwork is taken from the concept sketches for The Sword of Lies and was used with kind permission of Christian Gossett.
The Red Star and all related characters are ™ and © Christian Gossett. Used with kind permission.
The Red Star Campaign Setting is © Green Ronin Publishing, LLC.
Die Grafik stammt aus den Konzeptskizzen für Schwert der Lügen und wurde mit freundlicher Genehmigung von Christian Gossett verwendet.
The Red Star und alle verwandten Charactere sind ™ und © Christian Gossett. Verwendet mit freundlicher Genehmigung.
The Red Star Campaign Setting ist © Green Ronin Publishing, LLC.