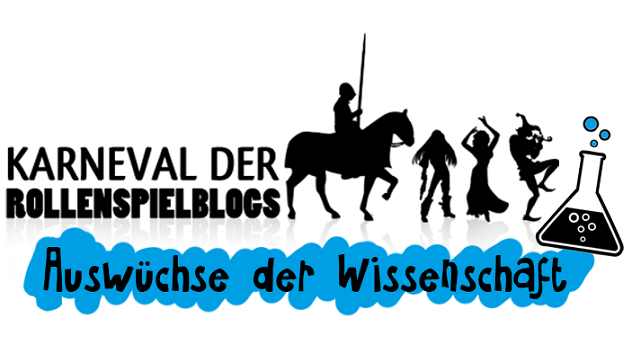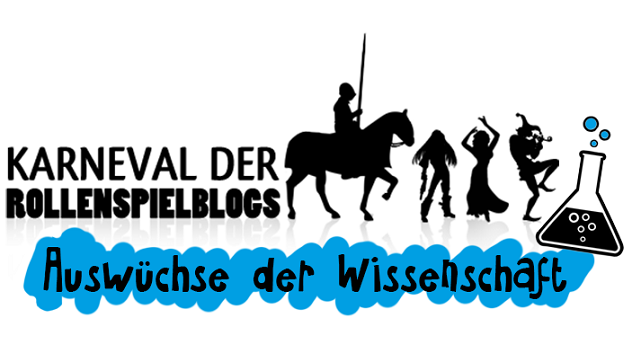 Der Karneval der Rollenspielblogs widmet sich im Mai "Auswüchsen der Wissenschaft".
Auswüchsen wie den Schmerzkaryatiden in Rogue Trader, denen selbst im Tod von ihren neuen Herren keine Ruhe gegönnt wird.
Vorgeschlagen wurde das Thema von Nerd-Gedanken, die sich auch um die Organisation kümmert.
Schmerzkaryatiden
Entwicklungsnotizen:
Wer Auswüchse der Wissenschaft und Warhammer 40.000 sagt, muss folgerichtig auch Dark Eldar Haemonculi sagen. Die Schmerzkaryatiden fügen dem Arsenal der Abscheulichkeiten der Foltermeister-Wissenschaftler eine weitere hinzu, die einerseits vom Einsatz von Sklaven als Kämpfern (die allererste Idee war dabei sogar speziell auf den Arenakampf fokussiert) andererseits von der bei einigen Dark Eldar-Waffen beschriebenen Folterung der in Phantomkristallen gespeicherten Seelen ihrer Weltenschiffverwandten inspiriert ist. Als System habe ich nominell Rogue Trader angegeben, da dieses die Profile mitbringt, auf die ich mich beziehe. Aber natürlich ist ein Einsatz auch in anderen Spielen der Warhammer 40.000 Roleplay-Reihe möglich (Only War beispielsweise gibt den Dark Eldar ja bereits von sich aus einen recht prominenten Platz unter den Gegnern).
Schmerzkaryatiden (oder Melionai wie sie auch genannt werden) waren einmal Weltenschiff-Geisterkrieger, die von ihren dunklen Verwandten gefangen wurden und das Pech hatten nicht zur Befriedigung deren perverser Gelüste oder zwecks Gewinnung von Rohstoffen für ihre abscheulichen Manufakturen und Labore zerstückelt zu werden, sondern mehr oder weniger intakt in die Fänge der Haemonculi zu geraten. Denn manche Haemonculi, insbesondere Anhänger der Phoenex-Philosophie, haben Techniken entwickelt, um die edlen Kriegerseelen in ihren Phantomkristallhüllen in wahnsinnige Mordkonstrukte verwandeln – Grotesken, die statt aus gefoltertem Fleisch und vergiftetem Blut zusammengenäht zu sein, in zerkratztem und gesplitterten Kristall geschlagen sind.
Die angewendeten Foltermethoden ähneln denjenigen, die bei der Herstellung von Waffen wie den Terrorfex-Granaten dazu verwendet werden, die Seelen in einzelnen Phantomkristallscherben in den Wahnsinn zu treiben, aber um ein Hundertfaches ausgeklügelter und intensiver. Die Haemonculi investieren sogar die Zeit, diese Torturen eigenhändig zu applizieren anstatt ihre toten Opfer den gröberen Händen ihrer Assistenten anzuvertrauen.
Schmerzkarytiden nutzen die Profile der Phantomkonstrukte, aus denen sie erschaffen wurden.
Alle Schmerzkaryatiden verfügen als zusätzliche Talente über Berserkerangriff und Raserei. Sie können sich allerdings nicht freiwillig in Raserei begeben, fallen aber mit sofortiger Wirkung in Raserei sobald sie einen Wurf für ihre Phantomsicht nicht bestehen.
Bei manchen Schmerzkaryatiden wurden Teile oder sogar ihre gesamte Bewaffnung gegen Dark Eldar-Waffen von ähnlicher Größe und Art ersetzt.
Wenn sie einen Wurf für Phantomsicht nicht bestehen, wandern sie nicht ziellos umher, sondern greifen stattdessen rasend die nächste Kreatur an, unabhängig davon, ob es sich um Freund oder Feind handelt. Wenn keine andere Kreatur in Reichweite ist, dann richten sie ihre Angriffe gegen sich selbst, im Versuch den Nebel ihrer dumpf schmerzenden Verwirrung durch die Erfahrung eines konkreten Schmerzes zu zerreißen.
---
Games Workshop, Warhammer 40,000, Warhammer 40,000 Roleplay, Rogue Trader and all associated marks, logos, names, and products are Intelectual Property of Games Workshop Limited and protected by Copyright. These items have been used unofficially and quoted exclusively as reference with no infringement on any associated rights intended and without implying endorsement by the copyright holder. Other contents of this article are published without permission or license.
Games Workshop, Warhammer 40,000, Warhammer 40,000 Roleplay, Rogue Trader und alle zugehörigen Marken, Logos, Namen, und Produkte sind Geistiges Eigentum von Games Workshop Limited und urheberrechtlich geschützt. Diese Elemente wurden inoffiziell und ausschließlich als Referenz zitiert ohne die Absicht damit verbundene Rechte anzufechten und ohne eine Billigung durch den Rechteinhaber zu implizieren. Andere Inhalte dieses Artikels werden ohne Genehmigung oder Lizenz veröffentlicht.