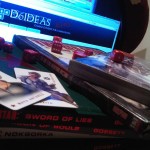 Die Oktoberrevolution 1917 markierte den Anfang vom Anfang der Sowjetunion, die deutsche Wiedervereinigung am 3. Oktober 1990 den Anfang ihres Endes. Der Kalte Krieg zwischen USA und UdSSR, zwischen West und Ost, dessen Symbol auch das geteilte Deutschland war, war Geschichte.
→ " class="mce-wp-more mceItemNoResize" title="More…" />
Selbst nach seinem Ende wird seine Behandlung in Spielen, so sie denn stattfindet, jedoch von einem westlichen Blickwinkel dominiert. In Rollenspielen tauchen sowjetische Spione und kommunistische Revolutionäre als Bösewichte und bestenfalls Rivalen auf, nicht als Verbündete oder gar Helden.
Eine seltene Ausnahme mit sowjet-russischem Einschlag in seiner Perspektive (obwohl erdacht von einem Amerikaner) bildet das auf der Höhe der d20-Welle erschienene The Red Star Campaign Setting, dem wir daher (und nicht etwa weil es sich "zufällig" um eines meiner eigenen Lieblingsspiele handelt) den ersten Oktober in der Geschichte von D6ideas widmen wollen.
Und um dem Ganzen die Krone aufzusetzen, hat Christian Gossett, der Schöpfer von The Red Star, uns seine Erlaubnis gegeben Teile seiner Comics als Illustrationen für die Artikel zu verwenden – ihr könnt euch also auch visuell auf ein besonderes Vergnügen in diesem Monat einstellen.
Was ist Red Star denn nun?
The Red Star spielt vor dem Hintergrund des Kalten Krieges und seiner Folgezeit in einer Fantasy-Parallelwelt, in der industrielle Zauberei konventionelle Technologie ergänzt und spirituelle Energie zusammen mit Öl die international Wirtschaft antreibt.
Das – wortwörtliche – Bild dieser Welt von kilometerlangen Luftschiffen, telekinetischen Schützenwaffen und magisch erleuchteten Guerillas wurde erstmals im Jahr 2000 in der gleichnamigen Comicserie gezeichnet. Die Comics erzählen uns von den Abenteuern einer Gruppe Roter Soldaten, von ihrer Niederlage in Al'istaan und dem Fall der UdRRS hin zu den brutalen Häuserkämpfen in der abtrünnigen Republik Nokgorka und weiter zu einem weit größeren mystischen Ringen um das Schicksal ihres Heimatlandes und die Freiheit seiner Menschen.
2004 brachte Green Ronin ein Kampangensetting zu den Comics heraus. Bei der Umsetzung bedienten sie sich einer stark modifizierten Version der d20 Modern-Regeln. Das mit Bildern aus den preisgekrönten Comics aufwendig illustrierte Buch liefert eine Fülle an Hintergrundinformationen, die die Welt von The Red Star lebendig machen selbst ohne auch nur einen einzigen Comicband gelesen zu haben, und die Änderungen und Zusätze zu den Regeln konzentrieren sich darauf, die Besonderheiten des Settings an den Spieltisch zu bringen, an Stelle der sehr viel generischeren Herangehensweise des normalen d20 Modern.
Bevor wir aber mit dem ersten Red Star-Artikel loslegen, wird am Montag ein Artikel für Warhammer Fantasy Roleplay (2nd Edition) aus der Feder von Dr. Gonzo erscheinen. Die Middenmänner (Englisch) sind Mitglieder einer Verschwörung, die verborgen in einer der größten Städte des Imperiums ihre Pläne schmiedet.
Am Donnerstag beginne ich mit dem Eisenbahndepot, einem kurzen Abenteuer, unsere Red Star-Reihe. Das Abenteuer stürzt die Spieler direkt mittenhinein in einen blutigen Krieg und die geheime Geschichte des Settings.