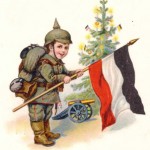 Christmas 1924
'Peace upon earth' was said, we sing it,
and pay a million priests to bring it.
After two thousand years of mass
We've got as far as poison gas.
-Thomas Hardy (1840-1928)
---
English articles:
On Monday, Weihnachtswunder I: No Man's Land is a concept for roleplaying in a 'Weird War I' featuring the Christmas truce of 1914 as a central element.
On Friday, we will see an English translation of the second part in Shadom's series on Miranbrück, a German town for use as a Changeling setting.
German articles:
Monday sees the German version of Weihnachtswunder I: No Man's Land.
Fridayy features the German original of the second Miranbrück article.