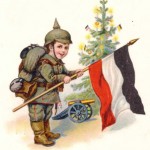 Christmas 1924
'Peace upon earth' was said, we sing it,
and pay a million priests to bring it.
After two thousand years of mass
We've got as far as poison gas.
-Thomas Hardy (1840-1928)
---
Deutsche Artikel:
Am Montag präsentieren wir Weihnachtswunder I: Niemandsland – eine Idee für Rollenspiel in einem "Weird War I"-Setting, wobei der sogenannte Weihnachtsfriede von 1914 eine zentrale Rolle spielt.
Am Donnerstag folgt der zweite Teil von Shadoms Changeling-Setting Miranbrück.
Englische Artikel:
Am Montag erscheint Weihnachtswunder Iauf Englisch.
Und auch die englische Übersetzung des zweiten Miranbrück-Artikels erscheint am Tag des Original – am Donnerstag.