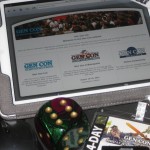 How to Gen Con, part I: What is Gen Con?
Coming back from the recent 44th Gen Con, the question arose if we could write something for D6ideas about the convention. But since nothing is older than yesterday's news, we will go a somewhat unusual route and give you a mini travel guide: "How to Gen Con".
As a four-year veteran of Gen Con, the world's largest traditional games convention, I've certainly learned a lot about how to prepare for the event and what to expect. Many first-time attendees are overwhelmed by the experience, and many would-be attendees, especially visitors from overseas, might be lost on how to plan or budget for the event or just intimidated to not even think about attending. With that in mind, I've decided to write a short series of articles on the convention, covering all the essentials: hotel, food, events, activities, and even what non-game-related things to enjoy in Indianapolis and in the Midwest United States. This first article will give a general overview of the convention, with later articles filling in the detail. Those later articles will be released before various deadlines in the registration process occur, or shortly before registration opens, giving you a good chance to be early enough to take advantage of time-limited offerings. If you follow along, you should be able to plan and budget your trip with ease.
Obviously, a lot of this information is out there somewhere else, but it might not be easy to find or be something people think about off-handed. Since this is work in progress, we appreciate feedback from anyone who has been to Gen Con before or who wants to go and feels some questions have been left unanswered.
What is Gen Con?
Gen Con (from Lake Geneva Convention) was founded in 1967 by Gary Gygax, one of the co-creators of Dungeons & Dragons. During its 44 year history, it was first held in many places in Wisconsin, prominent among them the Milwaukee Exposition & Convention Center & Arena from 1985 until 2002. The main US convention moved to the quite large Indianapolis Convention Center in Indianapolis, Indiana, in 2003 and has been held there ever since. Multiple spin-off conventions have also been held, like Gen Con South (1978-84 in Florida), West (1976-77) and SoCal (2003-2006). Outside the US, several different Gen Con conventions were also held in Europe from 1990 through 2008. For the near future, Gen Con has been announced to remain in Indianapolis until at least 2015. Ever since its inception, Gen Con has been a place primarily for gamers to actually play games, with the trade show aspect being clearly secondary. Still, this aspect is not to be neglected, as it is to my knowledge second only to the Internationale Spieltage SPIEL convention in Essen, Germany. Gen Con truly strives (and in my opinion succeeds) to provide "The Best Four Days in Gaming", as their advertising tagline suggests.
Why go there?
First of all, it is, by a large margin, the largest gaming convention in the world. For four days, Thursday morning through Sunday afternoon, more than 35,000 gamers congregate to play games, chat with gamers and developers alike, buy stuff, hang out, and have a good time. There are thousands of officially scheduled games (more than 8,500 on last August's Gen Con schedule), including RPGs, card and board games, miniatures war games, LARPs, etc., that one can participate in. One of the major appeals is to see and play many games that are very difficult to find an opportunity to play anywhere else, such as the convention-only D&D-inspired LARP, True Dungeon. In addition to that, there are hundreds of unofficial, unscheduled games, a huge board game library where everyone can rent games for a security deposit and a small fee, and additionally panels, discussion groups, and workshops about all topics related to gaming.
Gen Con also is one of the largest trade shows in the hobby and arguably the most important throughout the year. There is hardly a better place to meet game developers, authors and other content creators in person and talk about their work. The most important announcements in the hobby are usually made here, and the biggest new game titles released. For example, Magic: the Gathering was released here in 1993 and sold out before the end of the show, starting one of the biggest success stories in gaming. In 1999 the third edition of D&D was announced and later released here. Most companies aim their biggest titles of the year for a Gen Con release to benefit from the fan exposure – and instant sales at the show. One can easily spend the whole eight hours per day the exhibition hall (where companies demonstrate and sell their games) is open just playing demos, chatting with developers, and buying games without getting bored. If you want to have the newest releases weeks (or, for Europeans, sometimes months) before they hit the shelves of your local game store, here is your chance.
As a final note (and for those of you traveling with a non-gamer partner), Gen Con also offers a series of non-gamer events, tailored toward the interests of "normal" people: cultural events, sightseeing tours, wine tastings, and the like. This allows attendees to bring partners on the trip, even if they aren't into gaming.
Where is it?
Gen Con takes place in the middle of the Midwest United States, in Indianapolis, Indiana. From most people's point of view, this is somewhat in the middle of nowhere, even though Indy is the 12th largest city in the country. While the city is a fairly nice place to live, there is not much to see from a tourist's point of view. There are decent nightlife opportunities, especially during the convention, in some of the downtown clubs. This year, we had a three-night zombie party at a nice little dance club, for example. For those traveling from overseas, Indianapolis is a four-hour bus or train ride from Chicago, allowing you to see the famous city before or after your gaming experience.
When is it?
Gen Con usually it takes place during the second or third weekend of August each year, starting with Trade Day for business professionals and educators on Wednesday evening and officially opening to the public on Thursday morning at 8 AM, then running round-the-clock until Sunday afternoon at 5 PM. The coming 45th Gen Con is scheduled for the 16th to 19th of August, 2012. Attendance during all four days (highly recommended!) requires a 4-Day badge, which usually ranges in price from $70 to $80; single-day badges are also available for about $40 on most days and $30 for Sunday. Depending on what you would like to do and see, attendance on either Saturday or Sunday is recommended for single-day visits: Saturday provides a full day in the exhibition hall with all vendors still available, and plenty of time for attending games and events that day, while Sunday has a lower vendor attendance but the benefit of a lower admission price and many vendors providing great deals toward the end of the show to avoid having to ship product home.
How much is it?
Apart from the travel cost to Indianapolis and money to be spent on purchases in the exhibition hall, there are a few cost factors to be taken into account:
1.) The cost of attending the convention itself: Admission costs usually rise about $3~5 each year, resulting in about $72 for pre-registration or about $82 on-site for a 4-Day badge. There are multiple ways to earn free badges, usually by volunteering to run games, volunteering as a helper for Gen Con itself, or working for one of the vendors in the exhibition hall. I will get into more detail on registration and volunteering in a later article, closer to the date registration officially begins. For now, $82 is more or less the worst case.
2.) The cost of attending events: Gen Con requires tickets for scheduled events which usually cost about $1 per hour of playtime, occasionally more or less depending on the type of the event. Tournaments with prize support and more material-intensive games are often more expensive; Magic drafts, for example, are $14. Generally there are two types of tickets: event tickets, which are for specific events and reserve your seat in that event, and generic tickets, which can be used for any event with open space. However, as many events have limited capacity, holders of event tickets take precedence over holders of generic tickets. As a rule of thumb and from previous years' experience, most people spend less than $50 on events, and as there is plenty to do even without attending paid events, you can certainly have a good time at the convention without buying tickets at all. Actually registering for events and buying tickets will be addressed in more detail in a later article.
3.) Food and sustenance: Attending the convention over several days obviously requires eating. A lot of money can be saved with proper preparation, for example booking a hotel with cooking facilities or included meals. Bringing snacks and drinks for the day is another good idea, as the food and beverages inside the hotels and the Convention Center itself are sold at a premium. There are also many reasonably priced bars and restaurants in walking distance of the convention center as well, although this is more costly than bringing your own stuff, and there is at least one grocery store nearby as well. Expect to budget about $10~30 per day. I plan to address this in detail, with a full restaurant guide and recommendations, in an article to be published much closer to the start date of the 45th Gen Con.
4.) The lodging: Finding a place to stay for 3 to 4 nights is possibly the most expensive part of the whole endeavor. There are pretty much three different tiers of pricing that you can pick from: Hotels on the outskirts, which require driving or taking a shuttle downtown, are the cheapest, probably down to only $40-50 per night for a room. Hotels in downtown Indianapolis itself that are within walking distance of the Convention Center are potentially more expensive, but you save the hassle of driving in every day and possibly can find a cheaper parking solution. Expect prices of $150 per night and up depending on the room size and your reservation date. The most comfortable but potentially most pricey option are hotels that are either directly connected physically or associated with the Indiana Convention Center. Prices for a room can be easily above $300 per night, however, a part of each of those hotels is reserved for convention attendees at a reduced price if booked through Gen Con. These contingents usually go fast after registration opens. I will specifically address the hotel situation in a more detailed article, probably in September. We will also address regulations for room-sharing and other opportunities to reduce lodging cost at that time, as well as parking options and the likes.
So what's next?
Most likely the next article to come will deal with the best ways to get a good hotel, the benefits and drawbacks of various places as far as we know them, and general information on housing and parking. This is very important, as hotels usually start taking reservations about 11 months ahead of time and early registration is key to getting a good price. Obviously, any questions, comments, or recommendations that you as a reader or previous Gen Con attendee can offer are highly appreciated. After that, we will likely address preparing and running games for Gen Con as one way to have fun and potentially save money.
Special thanks for this article goes to Boco, another contributor and long-time Gen Con veteran, who helped catch errors and provided valuable feedback for the creation of this article including highly appreciated last-minute editing of my English.