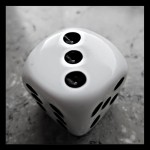 Some ideas are simply good.
Very good.
Over the last few weeks I became more active again on the Tanelorn, one of the great German fantasy forums.
But besides enjoying some interesting discussions, I also felt keenly reminded of why I had taken such a prolonged hiatus from RPG-related forums in the first place.
Forums are unproductive. Uncreative, even.
All talk, no action.
There are questions, answers, discussions, ideas, theses and their antitheses, but nothing usually comes out of them. Nothing concrete, no product, no content to use or to inspire.
"What am I even doing back here?" I thought.
Then, into that morose assessment of the state of things burst this thread:
A call to arms to redress this very situation. An invitation to contribute to a collection of all the little things, the results, the products, of the creative processes within and around the Tanelorn and its community.
No simple list of hand-me-downs and dusty old house rules either, but new stuff born – more or less – of the moment.
Within just a few days everything from new creatures – complete with illustration – and setting intro texts, to magical items, character sheets – with sample characters -, maps and micro rules' sets popped up, linked in the tread or directly posted into it.
This is what a community should be about: Sharing the actual output of creative endeveavours, not just discussions one step removed from the real thing.