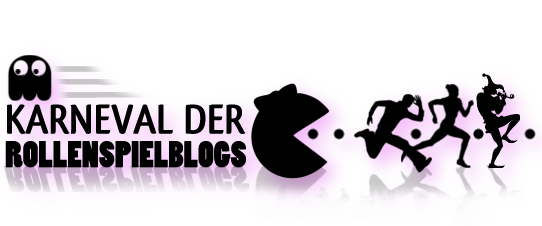 Vor einigen Monaten haben wir bei d6ideas einstimmig(!) die Ventrue zum besten Vampirclan von Vampire: the Masquerade (und Dark Ages) gewählt.
Für mich hat meine eigen Stimme dabei vor allem einen Grund – "Essen", Clawdeens aktuelles Thema beim Karneval der Rollenspielblogs, genauer gesagt natürlich ihre Clansschwäche, die individuelle Speisebeschränkung, die ihren möglichen Opferkreis eingrenzt.
(Nebenbei bemerkt ist das dann auch der eklatanteste Mangel von Vampire: the Requiem für mich, dass diese Schwäche gestrichen wurde, ebenfalls nebenbei bemerkt und apropos Essen sind die Predator Types in meinen Augen eines der leider zu rar gesähten wirklich interessanten Elemente der fünften Edition von Vampire: the Masquerade, und, nebeibei bemerkt, Speisebeschränkungen widmet sich auch Dnalor in diesem Karnevalsbeitrag, allerdings für DSA und ohne Vampirbezug.)
Was macht diese Schwäche so herausragend schmackhaft und sättigend für mich?
Vampire ist für mich ein Spiel um Verdammte – Verdammte im Sinne von Verlierer. Es ist ein Spiel über arme Schweine. Und nichts, nichts, unterstützt das so sehr, ermöglicht es so einfach, so radikal diesen Stab über einer Figur zu brechen, sie zum armen Schwein zu machen, diese Idee des armen Schweines in ihr greifbar, manifest zu machen, wie eine gezielt gewählte Beuteeinschränkung.
Verzweiflung und Sucht, Wahn, Hunger, Intensität, das Nachhängen, das Festhaltenwollen, das Elend, der Fluch, das Tantalidische, das Armselige, all das ist aufgereinigt, konzentriert in dieser Form, dieser Schwäche.
Die Ventrue sind der mit weitem Abstand beste Masquerade-Clan. Des Essens wegen.