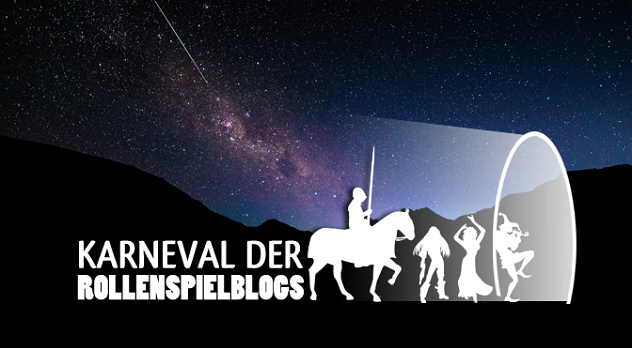 Frage: Was haben Mage: the Ascension, SLA Industries und Shadowrun gemein?
Antwort: Dass sie auf meiner Liste von Spielen stehen, um geheime Experimente mit Crossover-Szenarien durchzuführen.
Für ein paar Stunden sind Michaels von Weltenbauwissen "Durch unbekannte Pforten: Wege in andere Welten" noch Thema des Karnevals der Rollenspielblogs (hier geht es zum Übersichts- und Diskussionsthema der Beiträge im RSP-Blogs-Forum).
Und die Pforten, um die es mir jetzt geht, sind vielleicht im wahrsten Sinne des Wortes "unbekannt". Sie sind nämlich den Spielern unbekannt, zumindest einem Teil von ihnen, und zwar unbekannt in dem Sinne, dass sie bei beiden Konzepten, um die es geht, nichts von ihnen wissen und zumindest bei einem von ihnen auch nichts von ihnen erfahren werden.
Das Konzept für Mage: the Ascension ist das einfachere und augenzwinkernde von beiden:
Die Grundidee ist eine schlank besetzte Mage-Chronik, mit alles in allem zwei, vielleicht drei Mitspielern, inklusive Spielleitung. Die Magier reisen regelmäßig in entlegene Umbrareiche…
…und um diese darzustellen, besucht die gesammelte Truppe Conventions, schreibt sich dort gemeinsam in Spielrunden für andere Systeme ein und spielt in diesen dann ihre Mage-Charaktere – selbstverständlich mit Charakterbögen passend zum jeweiligen Spiel und selbstverständlich ohne irgendjemand anderem am Tisch, ganz besonders nicht der derartig heimgesuchten Spielleitung, etwas davon zu erzählen.
Zurück am heimischen Spieltisch werden dann gegebenenfalls die Nachwehen des Umbraausfluges behandelt.
In gewissem Sinne gehört dies auch in die Verwandtschaft von Metarollenspielen wie Powerkill, da hier aber für die Charaktere "handfeste" Reisen in andere Welten im Spiel sind scheint es auch gleichzeitig dem Karneval wie auf den Leib geschneidert (und ohne Michaels Januar-Thema hätte ich dieses Geheimnis wohl auch nie zum besten gegeben).
Für die "Maskencharaktere" empfehle ich übrigens, so im jeweils "bereisten" Spiel vorhanden, eine Eigenschaft wie "Amnesie" oder vergleichbares, um die Wissenslücken und Merkwürdigkeiten der importieren Charaktere ein wenig zu kaschieren.
Ähnlich, wenn auch ein wenig ernsthafter, sieht die Sache beim Doppelpack aus SLA Industries und Shadowrun aus (und im Gegensatz zu Mage habe ich mich hierzu auch schon in der Vergangenheit "öffentlich" ausgelassen):
Diesmal benötigt das Konzept zwei feste aber im Idealfall getrennte Spielgruppen – und zwar im wirklichen Idealfall eine, die SLA Industries nicht kennt (was nicht unbedingt ein Problem sein muss), und eine, die Shadowrun nicht kennt (was mit allergrößter Wahrscheinlichkeit ein großes Problem sein wird).
Eine Gruppe schlüpft dabei in die Rolle eines Teams von hochkarätigen SLA Operatives, die mit der Progress Control (lies: Eroberung) einer neuen Welt betraut werden. Was sie (zumindest zunächst) nicht wissen ist, dass es sich dabei keineswegs um den üblichen Planeten irgendwo in den Weiten des Known Universe handelt, zu dem sie per Foldship transportiert werden, sondern stattdessen um die sechste Welt von Shadowrun, zu der ihnen durch ein experimentelles (und temparamentvolles) Dimensionsportal (nennen wir es vorerst: Transfoldcapsule) Zugang gewährt wird. Nach ihrer Ankunft sind sie zunächst auf sich alleine gestellt und es liegt in der Hand der Spieler, wie sie mit ihren begrenzten Ressourcen eine ganze Welt erobern (in der es Kräfte und Wesen gibt, von deren Existenz sie keine Ahnung haben und die sehr viel weiter von Zuhause weg ist, als sie es ahnen).
Die andere Gruppe übernimmt die Rolle eines Teams von Shadowrunnern, die irgendwie über die Runden zu kommen versuchen. Was sie (zumindest zunächst) nicht wissen ist, dass sie dabei in die Machenschaften von transdimensionalen ausserirdischen Konzernagenten verwickelt werden (unter denen es Kräfte und Wesen gibt, von deren Existenz sie keine Ahnung haben) und es liegt in der Hand der Spieler, ob und wie sie deren Eroberungspläne aufdecken und zu durchkreuzen (oder zu unterstützen?) versuchen.
Am spannendsten finde ich ganz persönlich hier übrigens eine Frage, die zunächst vielleicht eher als Fussnote erscheinen mag: Mit welchem Produkt könnte SLA Industries beziehungsweise das Progress Control-Team die sechste Welt wohl am besten erobern?