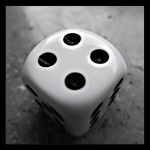 Though now it's FASA Games (and not FASA Corporation) and they are taking over from RedBrick, as announced by James Sutton.
But what does that mean for me as a gamer?

Frankly, I'd say nothing much.
The properties perhaps most closely associated with the original FASA Corporation are long gone and there is nothing to indicate that the likes of Battletech and Shadowrun are coming back "to the fold", so to speak.
The remaining main property, Earthdawn, had already long been with RedBrick via licensing, so nothing new on this front, either.
Also, there is no sign as of yet of the smaller or older FASA Corporation lines, such as their Renegade Legion universe, making a comeback.
The other non-FASA licenses held by RedBrick, Blue Planet and Fading Suns in particular, are being transferred to the new FASA Games as well.
So what remains as the gaming-relevant "big news" here, are the new gamelines tying into the established Earthdawn property. Something we would probably have seen – in one form or another – also without this new publisher.
I do look forward to those new games, as well as new product for the established licenses (indeed the new Revised Edition Blue Planet Player's Guide has me licking my lips), but in the end all this appears at first glance to be just business as usual – a name change, and not a game changer.
And thus, in closing, I can only say:
RedBrick is dead,
long live RedBrick FASA Games.