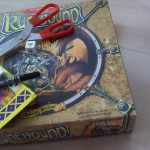 One week remaining for Christmas shopping. That leaves me with two big question marks.
The first one stands for: Have I gotten everything? (Yes.) The second one stands for: Are rpg-gifts really such a good idea?
Yes! I feel secure in my knowledge to select the right game/book for the right person, and such a gift enables me to share something which I really like myself.
Then again… perhaps that should rather be a no?
Something special for Christmas would be nice, meaning something which does not already occupy me all year round. So no rpgs as gifts.
? ?
Our articles for the last week before Christmas are all ready and gift wrapped already as well:
English articles:
On Monday, Got Soft Juice? is a collectively authored SLA Industries article dealing with the ever important topic of energy drinks.
On Friday, What is Water Boy? is another team effort, and the next entry in our ongoing series of What is …? articles – this time with a twist.
German articles:
On Monday, Got Soft Juice? will also be presented in a German version.
On Friday, the same goes for What is Water Boy?