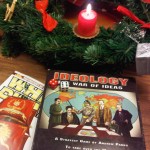 All new shiny toys!
…
Or perhaps not?
For Christmas, the year's new releases are going to feature once more on wishlist after wishlist. Why is that, though? "New is good", yes, of course, but rpgs, card, board, and miniature games are so very numerous these days, that there is bound to be an almost countless variety of old products from years and decades ago, which we do not own and did not play either. Perhaps we shouldn't let all the new "new releases" blind us to the possible joys of the old ones.
For myself in any event, I am well aware that I am going to yearn for some older titles just as much as for the newer ones, when I start to turn my thoughts towards Christmas shopping and wishing this first Sunday in advent 2011. A "new" game for me is a game that I am getting my hands on for the first time – and not one that is hitting stores for the first time.
For example, the second edition of Ideology (released by Z-Man Games) might be an update of a game I already own (and which I received as a gift, I might add) but it isn't a new release by any means. Despite that, I might very well add it to my wish list for this year, while – staying with the "updated" games – Games Workshop's annual "new release" Dreadfleet doesn't make the cut, and this despite it being both new and limited.
Also in pondering gifts for others am I often inclined to think of the used bookstore more than of the newest product update sites. Perhaps this is down to me thinking that Christmas is exactly the right time to deliver someone from an eternal state of wistfully stating "if only I bought that box when it was still in stores…"
Apart from such holiday-ladden thoughts, we will light a couple of totally different fires in this week's articles in addition to the first candle for advent:
English articles:
On Monday, blut_und_glas' Irradiated Scholar for Dark Heresy presents a quite fiery alternate career rank for techpriests.
On Thursday, Dr. Gonzo gives us the second part of his Ghosts of Aragon. This time with the rules to better fan the flames of revolution in the expanded background for The Red Star introduced last week.
German articles:
Also on Monday, we offer a German translation of the Irradiated Scholar.
On Thursday the same holds true for the Ghosts of Aragon.