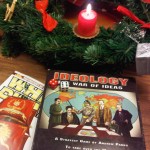 Neues buntes Spielzeug!
…
Oder auch nicht?
Zu Weihnachten landen gerne noch einmal die Neuerscheinungen des Jahres auf den Wunschzetteln. Aber warum eigentlich? "Neu ist gut", klar, aber Rollen-, Brett-, und Strategiespiele sind mittlerweile doch dermaßen (über?)zahlreich, dass geradezu zwangsläufig gewaltige Lücken in den Regalen klaffen müssen, an denen noch Produkte aus den Vorjahren und –jahrzehnten fehlen. Vielleicht sollten wir den Blick auf nicht ganz so neue Spiele nicht vollständig durch das neuere Material verstellen lassen.
Ich auf jeden Fall weiß, dass ich mit gleicher Sehnsucht ins Antiquariat und ins Gebrauchtregal wie auf die Ankündigungen und Neuheitenstände schaue, wenn ich an diesem Adventssonntag anfange, über Wünsche und Geschenke nachzudenken. "Neu" ist für mich nämlich das Spiel, das ich zum ersten Mal in der Hand halte, und nicht das, das in diesem Jahr zum ersten Mal verkauft wurde.
Die zweite Edition von Ideology (erschienen bei Z-Man Games) zum Beispiel ist zwar eine Überarbeitung eines Brettspiels, das ich bereits besitze (und zwar weil es mir – doppelt passend für dieses Beispiel – geschenkt wurde), aber sie ist auch schon lange keine Neuheit mehr. Trotzdem landet sie für mich auf dem Wunschzettel, während – um weiter bei Überarbeitungen im weiteren Sinne zu bleiben – Dreadfleet, das diesjährige Sonderspiel von Games Workshop trotz Neuheitenstatus und Limitierung auf der Strecke bleibt.
Und auch beim Verschenken denke ich oft ans Antiquariat. Vielleicht weil ich finde, dass Weihnachten genau die richtige Gelegenheit ist, um jemanden vom ewig wehmütigen "ach hätte ich mir doch damals diese Box gekauft" zu erlösen.
Außerhalb von solch weihnachtlichen Überlegungen, zünden wir neben der ersten Adventskerze mit unseren Artikeln in dieser Woche allerdings noch ein paar ganz andere Feuerchen an:
Deutsche Artikel:
Am Montag gibt es von blut_und_glas einen Artikel für Schattenjäger. Der Verstrahlte Gelehrte stellt eine neue feurige Alternativkarriere für Techpriester vor.
Am Donnerstag folgt der zweite Teil von Dr. Gonzos Die Geister von Aragon, der mit einigen Zusatzregeln aufwartet, um in der letzte Woche vorgestellten Settingergänzung zu The Red Star die Feuer der Revolution besser anheizen zu können.
Englische Artikel:
Am Montag kommt mit dem Irradiated Scholar ebenfalls die englische Version des deutschen Artikels.
Ebenso sind die Ghosts of Aragon, Part II, – für die, die die Regeln lieber in Englisch mögen.