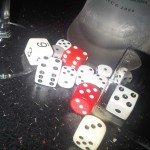 Gute Vorsätze für 2012 aus der Redaktion gab es effektiv nur zwei, die sind dafür aber recht weitreichend.
Der erste Vorsatz ist technischer Natur – der Wechsel vom "Alpha"- auf einen "Beta"-Status und damit verbunden ein großes Softwareupdate und die vollständige Überarbeitung des Designs.
Der zweite Vorsatz hat mit unserem Namen zu tun und ist eigentlich ein altes Vorhaben. Für 2012 haben wir uns allerdings vorgenommen, es endlich in die Tat umzusetzen: Das Auswürfeln (mit einem W6 natürlich) der Artikel(anzahl) in jeder Woche.
Für den Anfang haben wir übrigens eine etwas langweilige "4" als Ergebnis erzielt. Es geht als so weiter, wie wir im letzten Jahr aufgehört haben, mit vier Artikeln in der ersten Woche, jeweils zwei deutschen und zwei englischen.
Deutsche Artikel:
Am Montag starten wir mit einem Was ist …?-Artikel in die erste Woche. Der Begriff kommt von Shadom und die Frage lautet Was ist die dunkle Senke?
Freitag folgt dann als zweiter deutscher Artikel eine Übersicht über die Ebb-Abwehrausrüstung des Department of Ebb Attack and Defense (DEAD) für SLA Industries.
Englische Artikel:
Montag gibt es mit What is the dark hollow? eine Übersetzung.
Freitag präsentieren wir das Original des DEAD.