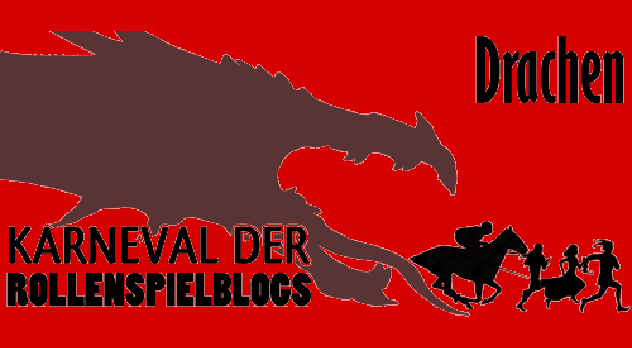 The Red Star ist nicht unbedingt das naheliegendste Spiel, wenn es um "Drachen", das von Merimac organisierte Thema des Karnevals der Rollenspielblogs im Juni, geht. Erst recht nicht in seiner Systemfamilie, denn wenn ich ein d20-System mit Drachen verbinde, dann ja wohl Dungeons & Dragons (in seinen dritten Editionen) selbst.
Tatsächlich gehen Drachen und The Red Star wirklich nicht gut zusammen.
Als Wesen der Geisterwelt könnten sie vielleicht funktionieren. So kann ich mir den gefangenen Flussgott aus Staudämme in The Red Star zum Beispiel auch als mächtigen Flussdrachen vorstellen (als Great Wyrm Chiang Lung zum direkten Import nach The Red Star bereit stehend in der D&D 3.0 Version von Oriental Adventures), wofür sich dann aber natürlich ein Staudamm irgendwo in Asien (statt in Nordamerika) anbieten würde. Als Bewohner der physischen Welt von The Red Star kann ich mir den handelsüblichen Drachen, wie ich ihn mir aus einer D&D-Publikation herauspflücken könnte, überhaupt nicht vorstellen.
Was dort aber sehr gut funktionieren kann, das ist in meinen Augen ein Drache nach dem Vorbild von Tugarin Zmejewitsch oder dessen deutscher Kinderbuchversion Fumar Drachensohn aus Ottfried Preusslers Abenteuern des starken Wanja, ein Drache in menschlicher Gestalt also, wie er in russischen Märchen und Sagen und allgemein der slawischen Mythologie also bereits auftaucht und sich über diese Verbindung fast schon natürlich in The Red Star einfügt.
Auch bei einem solchen Drachen hilft die Nähe zu D&D bei der einfachen Umsetzung für The Red Star, denn Charakterklassen mit starken Drachenthemen bietet es natürlich in großer Zahl und der notwendige Konvertierungsaufwand ist in aller Regel gering: Progressionen für Defense und Reputation müssen hinzugefügt werden und eventuell müssen Fertigkeiten und – falls vorhanden – Bonustalente angepasst werden. In vielen Fällen war es das schon.
Zwei Klassen aus dem D&D 3.5 Zusatzband Dragon Magic möchte ich hier kurz dementsprechend aufbereiten:
Der Dragonfire Adept (Dragon Magic, Seiten 24ff.) braucht als Grundklasse zusätzlich noch einen Starting Wealthbonus (+0). Unter The Red Star beinhaltet seine Fertigkeitsliste Bluff, Climb, Concentration, Decipher Script, Diplomacy, Gather Information, Intimidate, Jump, Knowledge (Arcane Lore, Current Events, History, Popular Culture, Theology and Philosophy), Listen, Profession, Read/Write Languages, Research, Ritual, Search, Sense Motive, Speak Language und Spot. Defense und Reputation Bonus entsprechen jeweils dem Red Fleet Officer. Er startet mit einer Simple Weapons Proficiency.
Der Dragon Lord (Dragon Magic, Seiten 38ff.) verfügt in The Red Star über die folgenden Fertigkeiten: Climb, Drive, Handle Animal, Intimidate, Jump, Knowledge (Current Events, Popular Culture, Tactics), Pilot, Profession, Ride, Sense Motive und Swim. Sein Defense Bonus entspricht dem des Red Trooper, sein Reputation Bonus dem des Red Fleet Officer. Er erhält eine Archaic Weapons Proficiency.
Dragon Magic und auch andere Bände mit und ohne Drachenfokus (auf der einen Seite beispielsweise Races of the Dragon und das Draconomicon, auf der anderen das Player's Handbook II oder auch die gewöhnliche Dungeon Master's Guide) enthalten wie gesagt noch mehr Klassen, die sich zur Darstellung solcher Drachen in Menschengestalt anbieten.
Die beiden oben ausgewählten finde ich persönlich allerdings besonders attraktiv. Das hat einmal damit zu tun, dass sie eine wichtige Grundeigenschaft von d20 Modern und auch The Red Star-Klassen teilen, die für D&D-Klassen nicht selbstverständlich ist: Sie bringen auf jeder einzelnen Stufe neue oder verbesserte Klassenfähigkeiten mit. Zum zweiten bringen beide übernatürliche Kräfte mit (Atemeffekte und drakonische Invokationen im einen, drakonische Auren im anderen Fall), die ihnen gerade auch im Kontext von The Red Star einen sehr starken, individuellen Charakter sichern, und die dabei gleichzeitig trotzdem auf der Regelseite recht kompakt sind (einige Seiten, die komplett in Dragon Magic enthalten sind), so dass sie sich leicht als vollständiges Paket "importieren" lassen, und bei denen es sich – dritter Punkt – um keine gewöhnlichen D&D-Zaubersprüche handelt, eine Form der Magie, die – zumindest für mich persönlich – einfach nicht gut mit der Welt von The Red Star harmonieren will.
---
The Red Star and all related characters are ™ and © Christian Gossett. Used with kind permission.
The Red Star Campaign Setting is © Green Ronin Publishing, LLC.
The Red Star und alle verwandten Charaktere sind ™ und © Christian Gossett. Verwendet mit freundlicher Genehmigung.
The Red Star Campaign Setting ist © Green Ronin Publishing, LLC.