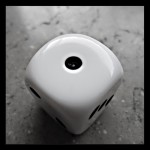 Die vorherrschende Meinung war, dass es heute zu heiß war, um normales Rollenspiel zu machen.
Also saßen wir am Ende da, und haben gemeinsam ein Spielbuch gespielt.

(Das Warhammer 40,000-Spielbuch "Hive of the Dead" aus Games Workshops Black Library, um genau zu sein.)
Einer von uns hat vorgelesen, einer Notizen gemacht und einer gewürfelt. Immer wenn der Vorleser nicht mehr wollte, wurde gewechselt. Entscheidungen wurden diskutiert und dann abgestimmt (jeweils wo nötig).
Für mich ist das eigentlich gar nicht so weit weg vom normalen Spielen. Tatsächlich würde ich sogar behaupten, dass das voll und ganz unter der Überschrift "normales Rollenspiel" verbucht werden kann – auch wenn ich weiß, dass da der Eine oder Andere sicher vehement protestieren wird.
Unabhängig davon hat der Tag heute mich auf jeden Fall wieder auf den Geschmack an dieser Art des Spiels (ob das jetzt nun normal ist oder auch nicht) gebracht, und so beschäftigen mich jetzt zwei Fragen:
Was nehmen wir uns als nächstes vor? Einen Klassiker (auf meiner Liste ganz oben steht da ja immer die Analand-Saga)? Oder nicht doch eher etwas Neues (oder zumindest etwas, das noch keiner von uns (durch)gespielt hat)?
Und:
Gibt es eigentlich Spielbücher, die auf genau so ein Vorgehen ausgelegt sind? Bei denen also die Texte direkt fürs Vorlesen optimiert wurden? (Hinweis: Die Texte von Hive of the Dead sind es meiner Meinung nach schon einmal nicht…)
Weiß irgendwer von solchen Büchern?