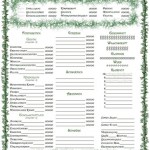 Es ist mal wieder so weit, eine neue "on the fly" Übersetzung. Bei Changeling liegt die Lage ein wenig anders als vor kurzem bei Grimm. Das System an sich existiert ja in deutsch (immerhin ist es ja die neue Welt der Dunkelheit). Auch wenn es also nie zu einer Übersetzung des Settings kam, so sind die meisten Regelbegriffe durchaus direkt fest.
Bei Changeling allerdings gibt es wie bei vielen White Wolf spielen ein ganz eigenes Fachvokabular und es ist fast unmöglich zu spielen ohne nicht ständig über diese Begriffe zu stolpern.
Diesmal gibt es also eine eher "fluffige" Übersetzung und deswegen hab ich auch gleich eine deutsche Erklärung der Begriffe dazu geschrieben. Natürlich darf aber auch der deutsche Bogen nicht fehlen.
Charkterbogen farbig als Pdf zum Download.
Charakterbogen farbig als Pdf zum Download.
Changeling Übersetzungen zum Download.
Für diejenigen von euch die (wenn auch ohne Erklärung dazu) noch einige Begriffe mehr übersetzt haben wollen, kann ich nur wenn auch etwas angestaubten Thread empfehlen. Passt beim Mischen nur auf, da wir nicht die gleichen Begriffe verwenden.
---
Changeling the Lost and related names are the Intellectual Property of White Wolf and protected by Copyright. These items have been used unofficially and quoted exclusively as reference with no infringement on any associated rights intended and without implying endorsement by the copyright holder. Other contents of this article are published without permission or license.
Changeling the Lost und alle damit verbundenen Namen sind Geistiges Eigentum von White Wolf und urheberrechtlich geschüzt. Diese Elemente wurden inoffiziell und ausschließlich als Referenz zitiert ohne die Absicht damit verbundene Rechte anzufechten und ohne eine Billigung durch den Rechteinhaber zu implizieren. Andere Inhalte dieses Artikels werden ohne Genehmigung oder Lizenz veröffentlicht.