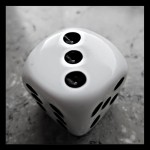 Zu Weihnachten darf man sich ja auch fromme Dinge wünschen.
Weltfrieden zum Beispiel. Genug Essen für alle. Einen Sieg über Krankheit. Glück und Zufriedenheit.
Auf meinen diesjährigen (eigentlich ja langjährigen…) frommen Wunsch für die Rollenspielbranche hat mich eine kürzlich geführte Diskussion in der Redaktion gebracht: Ich wünsche mir für die Branche die Fähigkeit sich kurz zu fassen (und so nicht schon vorhanden eine Wertschätzung dieser Fähigkeit). Schon das Grundregelwerk eines neuen Spiels hat ja gerne einmal 200, und besser 300, oder auch einmal 400 Seiten– vielleicht sogar gleich mehrbändig mit jeweils 400 Seiten –, und es wird so dargestellt als ob das ein besonderes Qualitätsmerkmal wäre.
Aber wofür bezahle ich eigentlich? Oder – weniger kommerziell zum Fest der Liebe – was wünsche ich mir eigentlich von so einem Grundregelwerk? Eine möglichst hohe Zahl an Wörtern? Ein großes Gewicht? Nicht wirklich, oder? Ich kann natürlich schlecht für die Allgemeinheit sprechen, aber ich persönlich wünsche mir interessante Ideen (ob nun im Bereich Regeln oder Hintergrund) und deren gute Umsetzung. Und das sind beides Wünsche noch Qualität. Nicht nach Quantität. Die Güte einer Idee bemisst sich nämlich nicht an der Menge Papier, auf der sie ausgebreitet wird.
Ich versteige mich sogar zu der Behauptung, dass je größer die Menge Papier, desto miserabler die Ausarbeitung. Worte schinden und eine Idee aufblähen – oder auch bloß aus Unsicherheit davor zurückzuschrecken, das Wesentliche, Schöne aus dem rohen Klotz herauszuschnitzen – das ist keine herausragende Leistung. Sich kurz zu fassen, mit wenigen Worten begeistern zu können, auf engstem Raum etwas präzise auszudrücken, das ist eine Kunst, wie sie im besten Sinne von Können kommt. Und von diesem Können und Kunst wünsche ich mir mehr zu Weihnachten.
(Ganz ohne Seitenhieb muss ich an dieser Stelle an den ja gerne lang und ausdauernd schreibenden Zornhau denken – genauer gesagt an seine beiläufige Anmerkung, einen kurzen Text zu schreiben sei schwierig und anstrengend, was genau der Grund wäre, weshalb er in den meisten Fällen das Gegenteil tun würde.)
Außerdem wünsche ich mir die folgenden Artikel für die nächste Woche:
Deutsche Artikel:
Montags gibt es einen Unknown Armies-Artikel von Hasran über Politik, Fernsehen und unaussprechliche Schrecken.
Am Donnerstag fängt Shadom mit dem an, wofür er mit der Changeling-Übersetzung letzte Woche den Grundstein gelegt hat – die Beschreibung des deutschen Städtchens Miranbrück als Schauplatz für Changeling: The Lost.
Englische Artikel:
Am Montag kommt mit "Tea Parties and 1-Percenters" das sehr amerikanische Original von Hasrans Artikel.
Am Donnerstag folgt im Gegenzug die Übersetzung von Miranbrück.