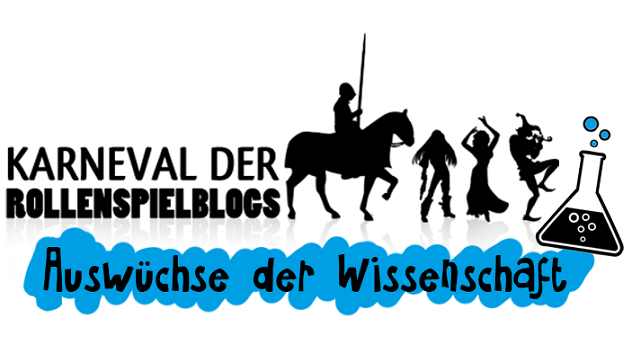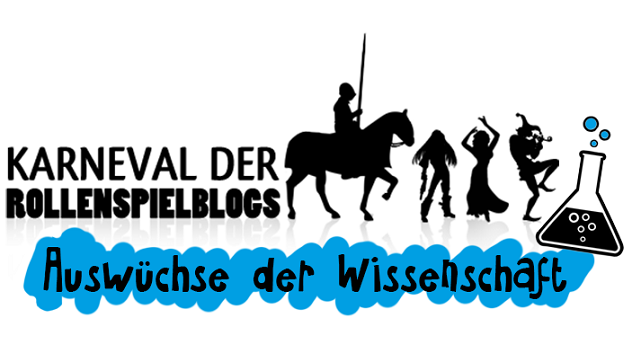 Der Karneval der Rollenspielblogs widmet sich im Mai "Auswüchsen der Wissenschaft".
Auswüchsen wie Project Blackbird in SLA Industries, einem Forschungsprojekt, bei dem bereits die Ausbeutung der Mitarbeiter ausgeklügelte Methode hat.
Vorgeschlagen wurde das Thema von Nerd-Gedanken, die sich auch um die Organisation kümmert.
Project Blackbird
Entwicklungsnotizen:
SLA Industries ist ein Spiel, dem zumindest aus meiner Perspektive mit seiner Kombination aus Science Fiction und Horror, Fortschrittswahn und bröckelnden Naturgesetzen, Konzernherrschaft und Kulten, die Auswüchse der Wissenschaft fast schon auf den Leib geschneidert sind. Dementsprechend häufig habe ich das Thema – wenn auch nie mit diesem konkreten Vorsatz – auch schon bei diversen Projekten zu SLA Industries zumindest gestreift, was sich ja auch in den bisherigen Beiträgen zum Karneval teilweise deutlich widergespiegelt hat. Project Blackbird geht ebenfalls auf solche älteren Wurzeln zurück, ist hier aber noch einmal in kompakter aber überarbeiteter Form präsentiert. Eine der Grundvorstellungen war das Bild, die Szenenbeschreibung von der entmenschenden Einsamkeit eines über Jahre und Jahrzehnte hinweg in einer Raumkapsel Gefangenen ohne jeden Kontakt zur Aussenwelt. Hier und jetzt liegt der Fokus nun verstärkt auf der Begründung dieser Unmenschlichkeit, denn dabei handelt es sich um – Wissenschaft. Oder besser das Schaffen von Wissen. Erkenntnis. In der World of Progress gibt es, wie auch in vielen anderen Horror-Spielwelten, Dinge, die die Menschheit nicht wissen sollte, Wissen, das in sich Gefahren birgt, noch mehr wenn es an die Öffentlichkeit oder in die berüchtigten "falschen Hände" (welche Hände das auch nun immer sein mögen) gelangen sollte. Gleichzeitig besteht ein Interesse daran, dieses Wissen zu erlangen. Es ist wichtig, es zu erlangen. Oder es erscheint einzelnen Personen und Gruppierungen so. Sie glauben auf diese Weise Macht erlangen zu können, Waffen gegen "den Feind" (was oder wer das auch sein mag) in die Hände zu bekommen, oder schlicht die Wahrheit – und nichts als die Wahrheit – zu offenbaren. Der Konflikt ist offensichtlich. Wissen soll, darf aber nicht erlangt werden. Es ist eine Frage des Zugangs und seiner Kontrolle. Die Lösung von Project Blackbird: Nicht das Wissen, sondern den Wissenden, den Wissen Schaffenden, den Denkenden zu kontrollieren. Ihn seine schrecklichen, gefährlichen, realitätszersetzenden Gedanken denken lassen – alleine, isoliert, weit weg von allen und allem, dem sein Wissen gefährlich werden könnte.
Project Blackbird ist ein streng geheimer strategischer Thinktank von SLA Industries.
Thinktank. Im Falle von Project Blackbird ist diese Bezeichnung auf bedrückende Weise wörtlich zu verstehen. Denn der verborgene Kern von Project Blackbird ist ein isolierter Lebenserhaltungstank an Bord eines autonomen Satelliten. Die Aufgabe des Insassen ist es, sich vollkommen abgeschnitten von der Aussenwelt mit den Dingen auseinanderzusetzen, die überall sonst von den allerobersten Etagen der Konzernführung mit absoluten und mit allen Mitteln durchgesetzten Denkverboten belegt werden – mit der Wahrheit. Die Isolation des autonomen Satellitensystems dient dabei sowohl dazu den Denker in seinem Tank von Ablenkungen und Störungen abzuschirmen – und ihn so mit seinen schrecklichen Gedanken alleine zu lassen -, als auch dazu die World of Progress vor eben diesen Gedanken und Erkenntnissen zu schützen. Eine Denkmaschinerie, die erdacht wurde, um ihre eigenen Gedanken nicht mit der anderen, der größeren Maschine des Konzerns, der Gesellschaft, der Realität in Kontakt kommen zu lassen.