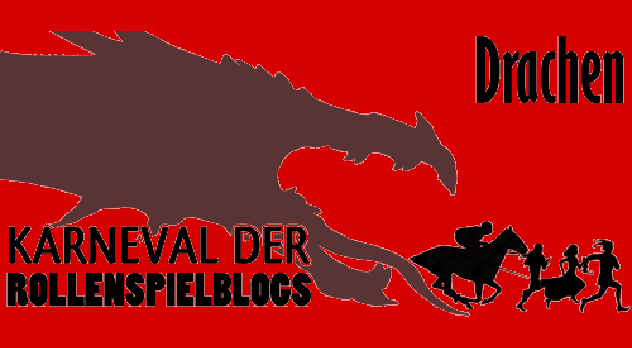 Wie so oft führt eins zum anderen.
Für das von Merimac vorgeschlagene und organisierte Thema "Drachen" beim Karneval der Rollenspielblogs habe ich letztes Wochenende ein paar Überlegungen zur Übertragung von D&D-Charakterklassen zur Darstellung von Drachen in Menschengestalt, wie sie auch in der slawischen Mythologie teilweise vorkommen, in The Red Star angestellt.
Kaum war ich damit fertig, stellten sich die Ideen für erste Charaktere unter Verwendung dieser angepassten Charakterklassen ein:
Goryn
Goryn ist ein nokgorkischer Warlord, dem die Zersplitterung des Widerstandes nach dem Fall von Bahamut den Weg für seinen Aufstieg ebnete. Obgleich der politisch geschickte Goryn sich aus propagandistischen Gründen öffentlich zum Widerstand und dem fortgesetzten Kampf gegen die roten Invasoren bekennt, sind er und die Kämpfer, die er um sich geschart hat, wenig mehr als Banditen, denen die aktuelle Lage des verheerten Landes sehr entgegenkommt. Von seiner Hort genannten Bergfestung aus lässt er weite Landstriche terrorisieren, vornehmlich mit dem Ziel seinen Einfluss zu vergrößern und sich durch Menschenraub, Erpressung, Plünderungen und Rohstoffschmuggel zu bereichern.
Außer mit den Früchten des Erfolgs hält Goryn seine Bande von verrohten Mördern, desillusionierten Widerstandskämpfern, gemeinen Verbrechern und opportunistischen Kriegsgewinnlern (siehe auch The Other Side of War für mögliche Charakterklassen für seine Bande) mit einer Mischung aus seiner magnetischen Persönlichkeit und Ausstrahlung und der abergläubischen Verehrung und Furcht vor seinen übernatürlichen Kräften unter seiner Kontrolle. Seine Männer verbreiten häufig das Gerücht, Goryn sei von den Geistern der Ahnen oder gar vom Propheten selbst mit besonderen Kräften gesegnet worden, bezeichnenderweise findet sich unter seinen Leuten aber nicht eine einzige Priesterin oder Schamanin, und den Banditen, die diese Geschichten erzählen, steht der verzweifelte Selbstbetrug ins Gesicht geschrieben.
Spielercharaktere können mit Goryn auf verschiedene Weise konfrontiert werden. Als Mitglieder der Roten Flotte könnten sie gegen seine Banditen vorgehen und letztendlich den Hort ausheben sollen, wobei dem ganzen durchaus auch erst einmal Überfälle durch Goryn vorausgehen könnten, bei denen die Charaktere sich zunächst auf der Seite der Verteidiger – oder der Opfer – wiederfinden. Auch der nokgorkische Widerstand könnte beschließen Goryn beseitigen zu wollen, entweder im Rahmen von internen Machtkämpfen, im ehrlichen Namen der Einheit, oder mit höherer Berufung unter Führung von Priesterinnen, im welchen Falle zunächst die dämonische (drachische) Natur Goryns endgültig aufzudecken wäre. Das offiziell aufgelöste fünfte Direktorat des Kommissariats könnte ebenfalls Goryn untersuchen und als übernatürliche Bedrohung unschädlich machen wollen und wäre dabei in seinen Ressourcen noch beschränkter als es schon der Widerstand wäre. Und natürlich könnten auch Mitglieder von Goryns eigener Bande beschließen, sich an seine Stelle setzen zu wollen…
Goryns Werte finden sich in der englischen Version dieses Artikels.
---
The Red Star and all related characters are ™ and © Christian Gossett. Used with kind permission.
The Red Star Campaign Setting is © Green Ronin Publishing, LLC.
The Red Star und alle verwandten Charaktere sind ™ und © Christian Gossett. Verwendet mit freundlicher Genehmigung.
The Red Star Campaign Setting ist © Green Ronin Publishing, LLC.