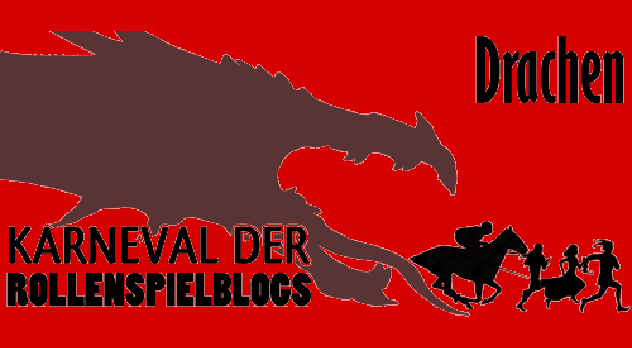 Es geht weiter.
Für das von Merimac vorgeschlagene und organisierte Thema "Drachen" beim Karneval der Rollenspielblogs habe ich vor einer Woche ein paar Überlegungen zur Übertragung von D&D-Charakterklassen zur Darstellung von Drachen in Menschengestalt, wie sie auch in der slawischen Mythologie teilweise vorkommen, in The Red Star angestellt.
Nach dem nokgorkischen Drachenwarlord Goryn ist dies der zweite Charakter unter Verwendung dieser angepassten Charakterklassen:
Major Vlad Drakowitsch Krasnow
"Was hat das alles zu bedeuten, Vlad Drakowitsch? 93 Aufständische und 5 Kraftfahrzeuge vernichtet? 41 Schützenwaffen, 4 Minenwerfer, 12000 Schuß Munition und 18 reaktive Geschosse? Wir hatten hier noch nie Probleme mit Nasr Kien! Die Provinz ist absolut friedlich! Unter vollständiger Kontrolle der Volksmacht!"
"Jetzt nicht mehr."
Major Vlad Drakowitsch Krasnow ist der Kommandeur einer unabhängigen Spezialeinheit der Roten Flotte in Al'Istaan. Anders als viele andere Offiziere vertrat er von Beginn an ein kompromissloses, hartes Vorgehen gegen die aufständischen Nasr Kien, und machte sich mit seiner handverlesenen Einheit aus Haglern und Zauberinnen daran, in seinen Operationsgebieten eine Strategie der buchstäblichen verbrannten Erde gegen sie umzusetzen. Seine ausgezeichneten Verbindungen innerhalb der Kommandostruktur der Flotte verschafften ihm dabei die notwendige Rückendeckung gegen Angriffe anderer Stellen, die eine Deeskalation des Konfliktes zu erreichen versuchten.
Außer seiner scheinbar angeborenen Rücksichtslosigkeit, die ihm den Weg aus dem Waisenhaus an die prestigeträchtige Zitadell-Militärakademie ebnete und ihm Erfolg und Anerkennung zu bescheren half, ist, ohne dass er sich selbst dessen vollständig bewusst wäre, noch ein weiterer Faktor für das besondere Wohlwollen seiner Vorgesetzten verantwortlich: Das dritte Direktorat hat früh Interesse an Vlad Drakowitsch Krasnow bekundet und lässt den Major diskret überwachen.
Unter den Nistaani ist Major Krasnow auch als der "Herr des Feuers" bekannt und gefürchtet, und das sowohl bei den Nasr Kien als auch bei regierungstreuen oder neutralen Bevölkerungsteilen. Die gewöhnlichen Nistaani beziehen dies auf den massenhaften Gebrauch von Flammenwerfern, weißem Phosphor und Protokolllanzen durch Major Krasnow und seine Einheit und die Spur verbrannter Karawanen und Dörfer, die sie hinterlassen. Für die Schamanen der Nistaani – und die Agenten des dritten Direktorats – hat dieser Name allerdings noch einen tieferen Sinn, denn in der Geisterwelt hat sich ein brennender, roter Schatten um Vlad Drakowitsch gelegt, der flügelschlagend und augenfunkelnd das flammende Vernichtungswerk des Majors in den Spiegellanden fortsetzt und so selbst noch die Seelen derjenigen verbrennt, deren Körper sich sein Herr und dessen Soldaten bereits angenommen haben.
Im Einsatz führt Major Krasnow üblicherweise eine Einsatzgruppe bestehend aus zwei Zauberinnen und zehn Haglern, motorisiert in einem Nomad-Halbkettentransporter.
Spielercharaktere können es mit Major Krasnow natürlich am einfachsten zu tun bekommen, wenn sie als Nistaani Jagd auf den verhassten Herr des Feuers machen – oder von ihm gejagt werden. Aber auch Rotflottisten können mit dem brutalen Major aneinandergeraten, sowohl direkt, als auch in der politischen Arena oder sogar im Feld des Übernatürlichen, wenn beispielsweise das dritte und das fünfte Direktorat sich uneins darüber sein sollten, wie mit dem "Begleiter" des Majors – oder seinen eigenen Fähigkeiten – zu verfahren ist.
Vlad Drakowitschs Werte finden sich in der englischen Version dieses Artikels.
---
The Red Star and all related characters are ™ and © Christian Gossett. Used with kind permission.
The Red Star Campaign Setting is © Green Ronin Publishing, LLC.
The Red Star und alle verwandten Charaktere sind ™ und © Christian Gossett. Verwendet mit freundlicher Genehmigung.
The Red Star Campaign Setting ist © Green Ronin Publishing, LLC.