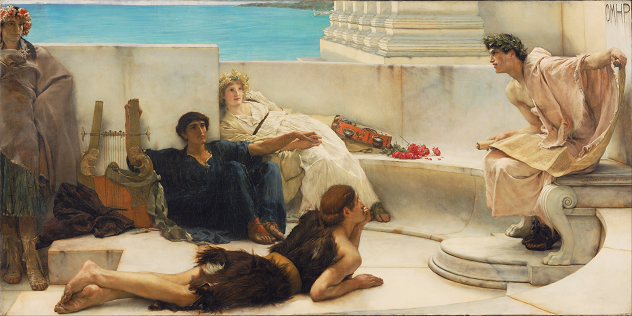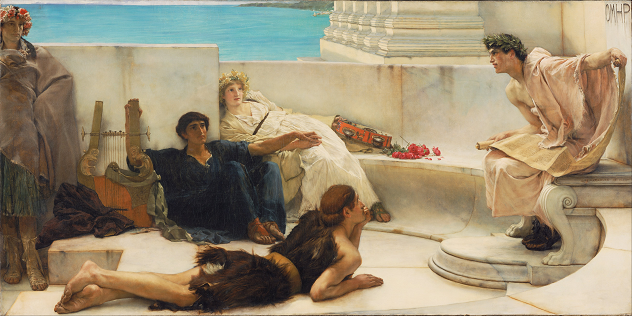 Homer-a-Day, Tag 7: Scheria
Fabrikwelt Scheria
Umtost von semi-permanenten Warpstürmen, ist die Fabrikwelt Scheria vom übrigen Imperium beinahe vollständig abgeschnitten – nicht zum Schaden Scherias, seiner Bewohner und der Herren der Fabriken und der Welt.
Für Fremde so gut wie unerreichbar, hat sich Scheria in seiner Isolation zahlreiche Errungenschaften bewahrt, die das Leben auf der Fabrikwelt erleichtern und fast schon paradiesische Zustände selbst für ihre einfachen Bewohner schaffen, nicht zuletzt, da solche technologischen Wunderwerke wie Gedankenimpulseinheiten des Alkinoos-Schema, Nebel der Athene und vor allem die Sternenklipper der Phäaken-Klasse, deren Konstruktionsgeheimnisse anderen Fabrikwelten lange verloren gegangen sind – so sie sie denn jemals besaßen -, jenseits von Scheria einen fast unermesslichen Wert haben.
In der Tat sind die gewaltigen Werftanlagen und die auf ihnen gefertigten Schiffe – darunter nicht nur die berühmten Sternenklipper – der ganz besondere Stolz Scherias, und auch die Verteidigung der Fabrikwelt ist ganz auf die Kontrolle der wenigen, geheimen Warpkorridore ausgelegt, deren exakte Positionen von den Herren Scherias eifersüchtig gehütet werden. Zwischen Werftarbeitern, Schiffsbesatzungen und Flottenauxilia gibt es so kaum einen Bewohner Scherias, dem nicht auch der Umgang mit Raumfahrzeugen vertraut wäre.
Als Heimatwelt eines Dark Heresy-Charakters (erste Edition) zählt Scheria als Fabrikwelt mit den folgenden Änderungen:
Statt der Eigenschaft "Geeignet" eines normalen Fabrikweltlers erhalten Charaktere von Scheria folgende drei Eigenschaften: Die Eigenschaft "behütete Kindheit" der Schola Progenium, die Eigenschaft "Etikette" des Adligen und die Eigenschaft "Schiffswissen" des Kindes der Leere.
---
yandere: […] Homer-Wochen bei 40k.
blut_und_glas: […] Homer-a-Day?
Homer-a-Day – einen Monat lang jeden Tag einen Homer-inspirierten Artikel für Warhammer 40.000. Eingebrockt haben wir uns das dieses Mal selber, als wir bei der August-Archivsichtung über den Odysseus Pattern Astartes Greatbow gestolpert sind und uns in unserer Hybris zum oben zitierten Schwur verstiegen haben.
Don't uncork what you can't contain.
---
Image: A Reading from Homer by Sir Lawrence Alma-Tadema (1836–1912).
---
Games Workshop, Warhammer 40,000, Warhammer 40,000 Roleplay, Dark Heresy, Rogue Trader, Deathwatch, Black Crusade, Only War and all associated marks, logos, names, and products are Intelectual Property of Games Workshop Limited and protected by Copyright. These items have been used unofficially and quoted exclusively as reference with no infringement on any associated rights intended and without implying endorsement by the copyright holder. Other contents of this articles are published without permission or license.
Games Workshop, Warhammer 40,000, Warhammer 40,000 Roleplay, Dark Heresy, Rogue Trader, Deathwatch, Black Crusade, Only War und alle zugehörigen Marken, Logos, Namen, und Produkte sind Geistiges Eigentum von Games Workshop Limited und urheberrechtlich geschützt. Diese Elemente wurden inoffiziell und ausschließlich als Referenz zitiert ohne die Absicht damit verbundene Rechte anzufechten und ohne eine Billigung durch den Rechteinhaber zu implizieren. Andere Inhalte dieses Artikels werden ohne Genehmigung oder Lizenz veröffentlicht.