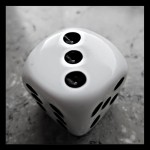 Wahrscheinlich ist das wieder einmal eines dieser Dinge, die nur mich und niemanden sonst aufregen, aber trotzdem. Nächstes Jahr soll Blue Planet v3 erscheinen. Das – und eine Forumsdiskussion, in die ich mich begeben habe – hat mich an etwas erinnert, das einige Zeit zurückliegt:

An einen Rollenspieler, der im Brustton der Überzeugung (stelle ich mir zumindest so vor – das ganze geschah online) forderte, Blue Planet müsse unbedingt ein Hintergrundupdate bekommen, in dem soziale Netzwerke in die Welt eingebettet werden sollten. (Andernfalls wäre das Spiel schlecht und altbacken.)
Mindestens drei Dinge stoßen mir daran auf, und alle laufen letzten Endes auf Kurzsichtigkeit hinaus:
Erstens ist der damit indirekt formulierte Ansatz, die Zukunft müsse genauso aussehen wie die Gegenwart, mir äußerst suspekt. Sicher, die Geschichte wiederholt sich, die Menschheit lernt nicht aus ihren Fehlern, und so weiter (davon gibt es übrigens jede Menge in Blue Planet). Aber daraus ableiten, dass aus der Nutzung von Facebook und Twitter im Jahre 2011 zu folgern sei, dass im Jahre 2191 immer noch mit Twitter und Facebook (oder deren mit Zukunftsfarbe angemalten Klonen) hantiert wird? Vor 10.000 Jahren wurden Trepanationen aus religiösen Gründen durchgeführt – wenn es nach dieser Logik ginge, sollten wir das heute immer noch in größerem Stil machen.
Zweitens ignoriert es die Geschichte des Hintergrundes. Selbst wenn wir einmal ignorieren, dass die Geschichte von Blue Planet bereits in den 1990/2000ern beginnt, sich langsam oder sicher von unserer realen Geschichte zu entfernen, und wir annehmen, dass sich das ganze Konzept von sozialen Medien so entwickelt, wie wir es selbst erleben, dann stellt sich immer noch die Frage, ob dieses Konzept die späteren, einschneidenden Ereignisse im Hintergrund überdauern sollte. Konkret gesagt: Werden wir im Angesicht einer weltweiten Katastrophe, der Milliarden durch Hunger und Krieg zum Opfer fallen, und die den Überlebenden alles abverlangt, um durchzukommen und die Welt wieder aufzubauen, nicht vielleicht besseres zu tun haben, als zu twittern?
Drittens offenbart die Forderung auch noch Unkenntnis gegenüber dem Diskussionsgegenstand selbst. Es gibt genug an Blue Planet zu kritisieren, je nach Sichtweise und Lesart auch an seiner Darstellung von Netzwerken und Medien, Fakt ist aber, dass sich das Spiel mit diesem Thema sehr wohl auseinandersetzt, und zwar nach meinem Dafürhalten sogar außergewöhnlich stark (andere Spiele, für die dies weit mehr in ihrem Fokus liegt, schreiben teilweise weniger darüber). Dass teilweise andere als die heute üblichen Begriffe verwendet werden, und manche Entwicklungen in der Spielwelt nicht den realen entsprechen, sorgt vielleicht dafür, dass eine sorgfältigere Auseinandersetzung mit dem Text nötig wird, um das Thema zu erkennen (mir sprang das nun wahrlich auch nicht sofort ins Auge), aber da ist es.
Konkretes Beispiel, allgemeines Problem. Gerade Sciene Fiction-Spiele(r) mit einem zumindest rudimentären Hard SF-Einschlag könnten so sehr davon profitieren, diese Art von Scheuklappen zu Hause zu lassen.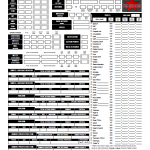 Zum Abschluss unseres Roten Oktobers hat Nogger noch einen hervorragenden Charakterbogen für The Red Star gestiftet, den ihr in diesem Editorial findet.
Download The Red Star Charakterbogen
Ganz ohne Sciene Fiction geht es in der nächsten Woche weiter:
Deutsche Artikel:
Am Dienstag präsentieren wir mit meinem Rad der Völker, einen systemübergreifenden Weltenbau-Artikel für Fantasyspiele.
Am Freitag veröffentlichen wir den deutschen Grimm-Charakterbogen von Shadom, inklusive Übersetzungsanmerkungen und Begriffsliste.
Englische Artikel:
Schon am Montag gibt es die englische Version des Dienstagsartikels unter dem Titel The Racial Wheel of Life.
Am Donnerstag wird yandere die letzte seiner drei alternativen d20 Modern-Charakterklassen zeigen, The Mind.
blut_und_glas