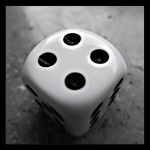 Norbert Matausch fragte in seinem Blog die Frage: welche zehn gedruckten Rollenspielbücher würdet ihr behalten, wenn ihr ins Exile gehen würdet. Hasran, blut_und_glas, Dave, yandere und yennico stellen hier ihre Top 10 vor. Eine Übersicht über die Top 10s von anderen Spielern findet ihr im Rollenspiel Almanach und im Tanelorn.


yennico
1. Earthdawn
Das ist eines meiner Lieblingssettings.
2. Cyberpunk 2020
Das gleiche gilt hier.
3. Savage Worlds
Ein Regelwerk für F!F!F! Runden.
4. Star Wars WEG
Eines meiner ersten Rollenspiele, an das ich verdammt gute Erinnerungen habe.
5. Rifts Atlantis
Ein tolles Setting, ich mag Tattoo Magic, aber schlechte Regeln, daher nur zum Ausschlachten für andere Systeme.
6. Al Qadim Campaign Setting
Arabian Nights, enough said.
7. Eberron
Fantasy mit ein paar besonderen Elementen.
8. Don´t Rest your Head
Abgefahren, aber gut.
9. Talislanta
Eine nicht-J.R.R Tolkien Fantasywelt mit interessanten Rassen.
10. Das letzte Buch ist eine Stadtbeschreibung: entweder Night City Sourcebook, Lankhmar City of Adventure, Corrinis, City State of the Invincible Overlord
blut_und_glas
1. d20 Modern (Grundregelwerk)
2. The Red Star (Campaign Setting)
d20 Modern ist für sich schon eine wunderbare Iteration der d20-Regeln, The Red Star würde vermutlich auch in meiner Liste von zehn Comics für die Insel landen.
3. SLA Industries (Grundregelwerk, XS)
SLA Industries ist ohne Karma (und wahlweise Contract Directory) schwer eingeschränkt, lässt sich aber auf das eine Buch verkürzen.
4. Earthdawn (deutsches Grundregelwerk, erste Edition)
Nostalgie. Und ein tolles Spiel.
5. Nobilis (Grundregelwerk, zweite Edition)
Mit Blumen. Und die hübscheste Version des Spiels. Immerhin nehme ich die Sachen ja ausdrücklich als Druckerzeugnis mit.
6. Analand Saga (Band II, Die Fallen von Khare)
Nur ein Band von Sorcery!/Analand Saga ist schade, aber Kahre (Cityport of Traps) ist einfach der beste von den vieren. Stattdessen ginge auch ein Fighting Fantasy-Sammelband, das wäre dann der Tausch Masse gegen Klasse.
7. Blue Planet Moderator's Guide (v2)
8. Blue Planet Player's Guide (v2)
Sonne, Sand und Cyberpunk. Die v2 belegt zwar durch das geteilte Grundregelwerk zwei Plätze, aber trotz des zuckersüßen Schadenssystems der v1, ist das Synergy-Regelsystem der v2 insgesamt einfach interessanter.
9. Mutant Chronicles (Grundregelwerk, zweite Edition)
10. Mishima
An Mutant Chronicles sind eigentlich die Sourcebooks spannender, aber gerade Mishima lässt sich ohne Grundregelwerk nicht recht benutzen. Imperial oder Bauhaus gingen ein bißchen besser alleine, aber HERO System 6th Edition (der Anwärter auf den nächsten Platz) passt mit seinem zweibändigen Grundregelwerk leider gar nicht in die so eventuell freiwerdende Lücke hinein. Wasteworld wiederum würde hineinpassen.
yandere
1. D&D 4E – Rules Compendium
2. D&D 4E – Heroes of the Fallen Lands
Vielleicht meine Lieblings-D&D Edition, und man braucht mindestens diese beiden Bücher um zu spielen.
3. SLA Industries – 2nd Edition Core
Um meine Dosis futuristischen urbanen Horror zu bekommen.
4. Legend of the 5 Rings – 4th Edition Core
Ein spaßiges kleines Fantasyspiel mit japanischem Einschlag.
5. Nobilis – Great White
Eins der seltsamsten und schönsten Bücher, die ich in meiner Rollenspielsammlung habe.
6. Marvel Heroic Roleplaying Basic Game
Superheldenrollenspiel mit kurzen und interessanten Regel. Wahrscheinlich auch gut um Shonen-Animes zu spielen.
7. D&D 4E – Heroes of the Forgotten Kingdoms
Für ein bißchen mehr Abwechslung bei meinen D&D-Sitzungen.
8. Maid – The RPG
Weil ist so. Fragt nicht.
9. GURPS – Basic Set Characters
10. GURPS – Basic Set Campaigns
Falls ich etwas vergessen haben sollte, dann kann ich hiermit Abhilfe schaffen.
Dave
1. Runequest II – Empires
2. Legend Core
3. Low Life – The Rise of the Lowly
4. Al' Quadim Campaign Setting
5. Birth Right Campaign Setting
6. Tome of Corruption
7. Qin – The Warring States
8. SLA Industries Core
9. SIFRP Core
10. Stars without Number
Hasran
1. SLA Industries
2. Unknown Armies
3. Star Wars d20
4. HERO
5. Mage: The Ascension 2nd Edition
6. Nobilis
7. d20
8. Deathwatch
9. Agone
10. Violence