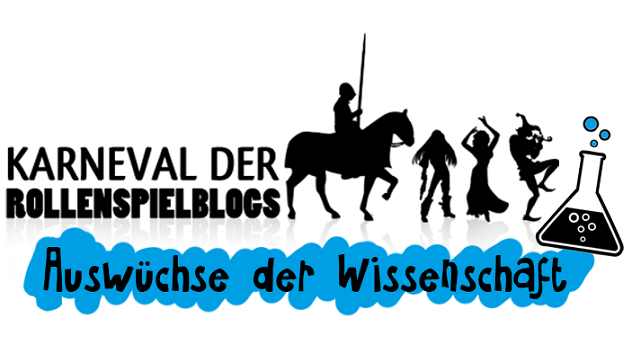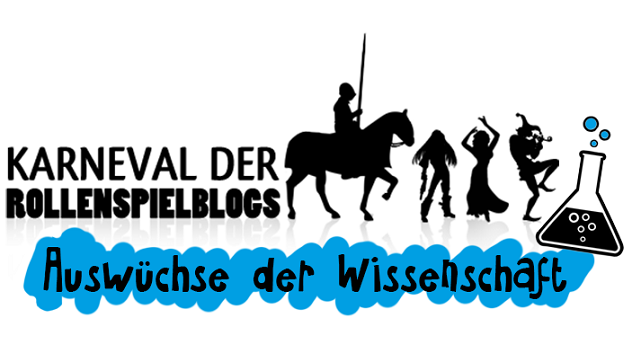 Der Karneval der Rollenspielblogs widmet sich im Mai "Auswüchsen der Wissenschaft".
Auswüchsen wie dem Wissenschaftler in Unknown Armies, dem archetypischen Quelle aller Auswüchse der Wissenschaft.
Vorgeschlagen wurde das Thema von Nerd-Gedanken, die sich auch um die Organisation kümmert.
Der Wissenschaftler
Entwicklungsnotizen:
Für Unknown Armies lag das Konzept für die Umsetzung des Karnevalsthemas auf der Hand: Der wortwörtliche Archetyp des amoralischen Wissenschaftlers. Für die Ausgestaltung haben wir uns dann eines gemeinsamen Brainstormings bedient, in dessen Verlauf im Sinne eines umfassenden Wissenschaftsbegriff ein sehr starker Bezug auf die okkulten Seiten von Unknown Armies in den Entwurf Einzug gehalten hat.
"Any sufficiently advanced technology is indistinguishable from magic."
-Arthur C. Clarke
"Now I am become death, the destroyer of worlds."
-J. Robert Oppenheimer
Attribute: Der Wissenschaftler kennt keine Denkverbote. Wissenschaft ist Selbstzweck. Wissen um des Wissens willen. Fortschritt um des Fortschritts willen. Wen kümmert es, wo die Rakete einschlägt, nachdem sie erst erfolgreich gestartet ist – das liegt in der Verantwortung von anderen Leuten.
Tabu: Grenzen. Etwas nicht zu tun, bloß weil es dem eigenen Tugendimpuls widerspricht, ist ein sicherer Weg den Kontakt zum Wissenschaftler zu verlieren.
Geistiger Diebstahl hat zwar eine gewisse Tradition, schwächt aber dennoch den Archetypen in seiner reinen Form.
Symbole: Brillen, Laborkittel, Bücher, Taschenrechner (insbesondere originale TI82), Glasapparaturen, Forschungsdrittmittel, Latein, Manuskripte, Formeln (eine Schlüsselstellung nimmt natürlich E=mc² ein), optische Instrumente (Teleskope, Mikroskope, Endoskope, Hauptsache Skope), Tweedjacken, Titel, Museen, Teilchenbeschleuniger, und anderes mehr.
Masken: Daedalos (antik), Johannes Faustus (16. Jahrhundert), Viktor Frankenstein (19. Jahrhundert), Reed Richards (20. Jahrhundert), Rick Sanchez (21. Jahrhundert).
Vermutete Avatare in der Geschichte: Aristoteles, Wernher von Braun, Marie Curie, Leonardo Da Vinci, Fritz Haber, Ishii Shirō.
1%-50%: Occam's Razor. Häufig ist die einfachste Erklärung die, dass Magie im Spiel war. Mit einem erfolgreichen Wurf auf seine Avatar: Der Wissenschaftler-Fertigkeit kann ein Charakter ein Ereignis als unnatürlichen Ursprungs identifizieren.
51%-70%: Ivory Tower. In seinem eigenen Labor oder einem anderen passenden Kraftort kann ein Avatar des Wissenschaftlers bei der Erforschung von Ritualen schwache Ladungen generieren. Mit einem erfolgreichen Wurf auf Avatar: Der Wissenschaftler erhält er dabei eine schwache Ladung. Alle für ein Ritual erforderlichen Ladungen müssen hintereinander weg generiert werden. Wenn der Avatar seine Arbeit unterbricht oder ihm ein Wurf mißlingt, so gehen alle bisher gesammelten Ladungen verloren.
71%-90%: Can implies ought. Ein Avatar des Wissenschaftlers muss keine Stresswürfe ablegen für Taten, die er das erste Mal begeht.
91%+: Now I am become death. Sobald der Avatar diese Stufe erreicht, erhält er eine mächtige Ladung.