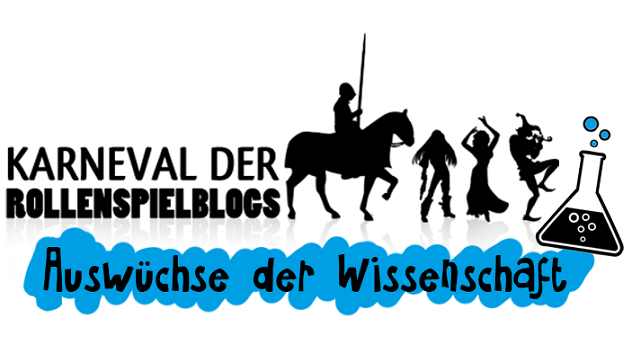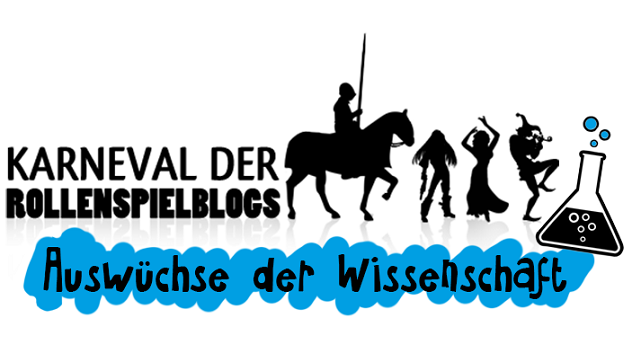 Der Karneval der Rollenspielblogs widmet sich im Mai "Auswüchsen der Wissenschaft".
Auswüchsen wie der Atmosphärendepolarisation in Warhammer 40.000, einer von vielen Technologien des Imperiums, um ganzen Welten den Tod zu bringen.
Vorgeschlagen wurde das Thema von Nerd-Gedanken, die sich auch um die Organisation kümmert.
Atmosphärendepolarisation
Entwicklungsnotizen:
Wer von euch hat sich schon einmal gewundert, wie wohl ein Orbitalbombardement vom Boden aus funktionieren könnte? Ich mich auch.
Der Lehnsherr-X-Schema Magnetosphärenschild ist ein Standardkonstrukt aus dem dunklen Zeitalter der Technologie, das der primären Terraformierung dient und das Magnetfeld und den atmosphärischen Schutz eines Planeten gegen gefährliche kosmische Strahlung und Sonnenwinde verstärkt und so die Grundvoraussetzungen für eine menschliche Kolonisierung schafft.
Auf vielen Welten sind diese alten Maschinen beschädigt oder gänzlich zerstört, so dass die ehemals in Zaum gehaltenen Bedingungen auf ihrer Oberfläche außer Kontrolle geraden konnten und ihre Bevölkerung entweder unter kruden Schutzkuppeln oder in tiefen Höhlen Zuflucht suchen musste oder aber eine durch Strahlenkrankheit und Mutationen verkürzte Lebenserwartung besitzt. Auf vielen anderen Planeten sind die gewaltigen Anlagen aber nach wie vor in Betrieb und stehen weiterhin Wacht, ein Testament der verdienten Herrschaft der Menschheit über die Natur und sogar über die zerstörerische Kraft der Sterne.
Sha Magna gehörte zu diesen Welten, die immernoch auf die arkane Macht ihres jahrtausendealten Lehnsherr-X zählen konnte, als auf ihr eine Rebellion gegen das Imperium ausbrach und sich ein wahrer Höllenpfuhl an Verderbtheit, Diabolismus und Xenosanbetung offenbahrte. Ohne Aussicht Sha Magna zurückerobern zu können, ehe die Feinde der Menschheit den industriell hoch entwickelten Planeten zur Festung und zum Ausgangspunkt weiterer Überfälle und Angriffe ausbauen würden, wurde das Urteil des Exterminatus über die Welt verkündet. Die Flotte, der diese ernste Aufgabe zuteil werden sollte, wurde allerdings aus dem Hinterhalt angegriffen bevor sie ihre Mission ausführen konnte.
Magos Eisenhardt, der ranghöchste überlebende Vertreter des Adeptus Mechanicus unter den Resten der Flotte, nahm es auf sich, sich einen Weg bis auf die Oberfläche von Sha Magna und weiter in den Komplex des Magnetosphärenschildes freizukämpfen. Sobald er sein Ziel erreicht hatte, schaltete Eisenhardt nicht einfach nur den Schild ab, sondern er kehrte dessen Polarisation um, wodurch er selbst das bisschen natürlichen Schutz, das ihr Magnetfeld und die Atmosphäre Sha Magna gewährt hatte, hinweggefegt wurde. Binnen Stunden war durch die harte, von Sha Magnas Sonne ausgesandten Strahlung alles Leben von der Oberfläche des Planeten weggebrannt.
Obwohl der Magos selbst ebenfalls sein Leben verlor, wurden seine umfangreichen Aufzeichnungen später erfolgreich geborgen. Nach langen Debatten wurde seinem radikalen Vorgehen der offizielle Segen und die Erlaubnis der Herren des Mars zuteil.
Seitdem wurde Eisenhardts Atmosphärendepolarisation gegen mehr als zwanzig weitere Welten, auf denen Lehnsherr-X-Schilde installiert waren, eingesetzt, und es sind mindestens zwei Fälle dokumentiert, in denen das Adeptus Mechanicus die Neukonstruktion von Magnetosphärenschilden auf Planeten nur zum Zweck des anschließenden Exterminatus in Angriff nahm.
---
Games Workshop, Warhammer 40,000, Warhammer 40,000 Roleplay, Dark Heresy, Deathwatch, Rogue Trader and all associated marks, logos, names, and products are Intelectual Property of Games Workshop Limited and protected by Copyright. These items have been used unofficially and quoted exclusively as reference with no infringement on any associated rights intended and without implying endorsement by the copyright holder. Other contents of this article are published without permission or license.
Games Workshop, Warhammer 40,000, Warhammer 40,000 Roleplay, Dark Heresy, Deathwatch, Rogue Trader und alle zugehörigen Marken, Logos, Namen, und Produkte sind Geistiges Eigentum von Games Workshop Limited und urheberrechtlich geschützt. Diese Elemente wurden inoffiziell und ausschließlich als Referenz zitiert ohne die Absicht damit verbundene Rechte anzufechten und ohne eine Billigung durch den Rechteinhaber zu implizieren. Andere Inhalte dieses Artikels werden ohne Genehmigung oder Lizenz veröffentlicht.