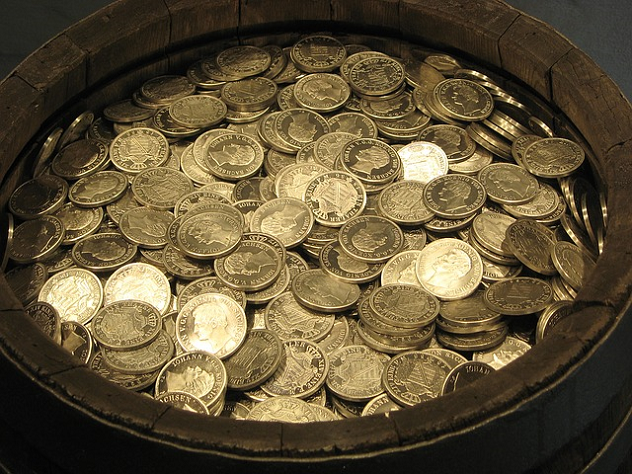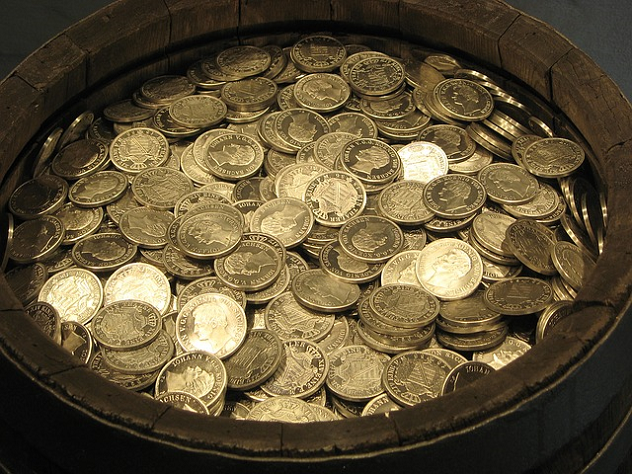 Loot-a-Day, Tag 21: Zahnräder, Schrauben und Nägel
Zahnrad des Märtyrer-Omnissiah
Auf diesem heiligen Zahnrad des Adeptus Mechanicus ist eine menschliche Figur mit mehreren deutlich erkennbaren Schrauben angeschraubt.
Es handelt sich um ein heiliges Symbol und Erkennungszeichen einer häretischen Sekte, die sich selbst als Kult der kritischen Divergenz bezeichnet und deren Anhänger hauptsächlich unter den Mitgliedern des Adeptus Mechanicus, vereinzelt aber auch in der Ekklesiarchie und anderen imperialen Organisationen zu finden sind.
Der Kult ist in erster Linie eine philosophische Denkschule, welche die vollständige Synthese zwischen ekklesiarchischer und marsianischer Lehre verfolgt und dabei das Opfer des Imperator-Omnissiah an und durch die Maschine in Gestalt des Goldenen Thrones als Schlüssel zu einer solchen Vereinigung begreift.
Wegen der von den Anhängern der Divergenz vertretenen Abweichungen von den Orthodoxien des imperialen Glaubens und des Maschinenkults und ihrer kritischen Auseinandersetzung mit beiden Lehren im Rahmen ihrer Queste, wird das Zahnrad des Märtyrer-Omnissiah meist nur bei besonderen Zusammenkünften offen getragen.
Warum Warhammer 40.000?
Von den vielen Zahnradsymbolen war uns das des Adeptus Mechanicus gerade das naheliegendste. Zusammen mit der expliziten Erwähnung der Nägel waren wir damit dann schnell beim Kreuz. Bloß mit Schrauben.
---
Loot-a-Day ist eine Begleitaktion zu Greifenklaues "Geld, Gold & Schätze"-Thema beim Karneval der Rollenspielblogs, inspiriert von unserer Gegenaktion zu RPGaDay, ArtifactaDay, die wir letztes Jahr im Rahmen von Merimacs "Artefakte"-Karneval gestartet haben und an die wir seit dem auch noch ebenfalls karnevalsgestütze Aktionen mit täglichen Kunstwesen und zuletzt täglichen Auswüchsen der Wissenschaft angeschlossen haben.
---
Games Workshop, Warhammer 40,000, Warhammer 40,000 Roleplay, Dark Heresy, Deathwatch, Rogue Trader, Black Crusade, Only War and all associated marks, logos, names, and products are Intelectual Property of Games Workshop Limited and protected by Copyright. These items have been used unofficially and quoted exclusively as reference with no infringement on any associated rights intended and without implying endorsement by the copyright holder. Other contents of this article are published without permission or license.
Games Workshop, Warhammer 40,000, Warhammer 40,000 Roleplay, Dark Heresy, Deathwatch, Rogue Trader, Black Crusade, Only War und alle zugehörigen Marken, Logos, Namen, und Produkte sind Geistiges Eigentum von Games Workshop Limited und urheberrechtlich geschützt. Diese Elemente wurden inoffiziell und ausschließlich als Referenz zitiert ohne die Absicht damit verbundene Rechte anzufechten und ohne eine Billigung durch den Rechteinhaber zu implizieren. Andere Inhalte dieses Artikels werden ohne Genehmigung oder Lizenz veröffentlicht.