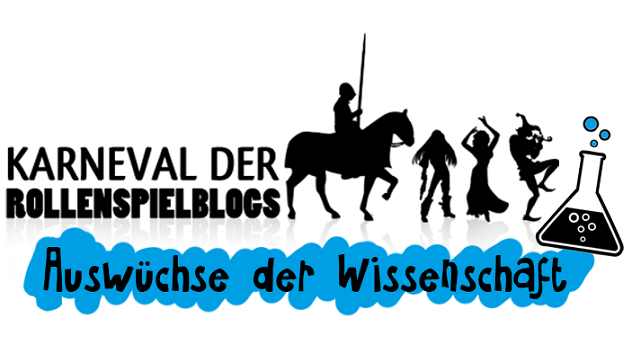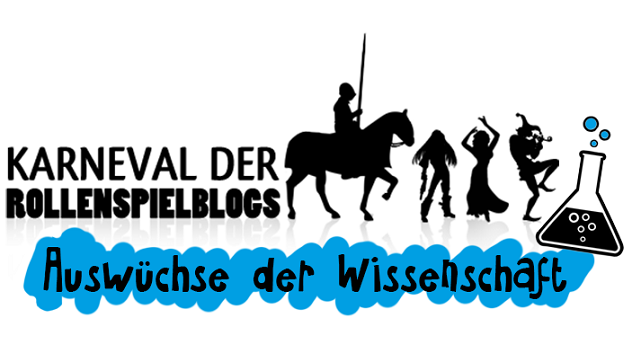 Der Karneval der Rollenspielblogs widmet sich im Mai "Auswüchsen der Wissenschaft".
Auswüchsen wie den Tränenatlanten in Rogue Trader, die Navigatoren den Weg durch den Warp mittels destilliertem Heimweh weisen.
Vorgeschlagen wurde das Thema von Nerd-Gedanken, die sich auch um die Organisation kümmert.
Tränenatlas
Entwicklungsnotizen:
Der Tränenatlas ist das Ergebnis der Überlegung, welche Organisationen innerhalb des Imperiums bei Warhammer 40.000 sich überhaupt anbieten, um auf ihnen einen Auswuchs der Wissenschaft aufzusetzen. Die offensichtliche Antwort scheint das Adeptus Mechanicus zu sein, aber: Ist der Punkt an dieser Organisation nicht auch gerade der, dass sie sich eben nicht durch Wissenschaftlichkeit oder viel mehr sogar durch explizite Unwissenschaftlichkeit auszeichnet? Ohne jetzt lange ein Lexikon des 41. Jahrtausends durchzudeklinieren, wem dort alles der wissenschaftliche Anspruch fehlt (allen), vielleicht direkt ein Wort zu dem Ergebnis, an dem ich angelangt bin: Die Navis Nobilite, die Häuser der Navigatoren, jener in einer noch von Wissenschaft und Fortschritt erleuchteten Vergangenheit durch gentechnische Manipulation willentlich (und wissentlich) geschaffenen Mutanten, die mittels ihres dritten Auges die Raumschiffe des Imperiums durch die Paralleldimension des Warpraumes lenken. Warum die Navigatoren? Einmal wegen ihrer Geschichte als Produkte (Auswüchse) der Wissenschaft, dann auch wegen ihrer relativen Unabhängigkeit vom herkömmlichen Dogma und ihrer Unantastbarkeit durch dessen Vertreter, und auch wenn bei ihnen natürlich ebenfalls das Wissen, speziell das alte, tradierte Wissen, höher im Kurs steht als die Wissenschaft (wie es eben auch bei all den anderen imperialen Organisationen der Fall ist), bin ich bei meinen Überlegungen dann doch ob dieser beiden ersten Faktoren bei den Navigatoren als einer zumindest faszinierenden, wenn nicht sofort naheliegenden Option hängengeblieben. Welchem Gegenstand aber könnten sich Navigatoren wissenschaftlich forschend annehmen? Der Navigation natürlich. Und wie entsteht daraus ein Auswuchs? In dem sich die Navigation eines in irgendeiner Form menschenverachtenden Mechanismus bedient (zusätzlich zu ihrem menschenverachtenden Grundmechanismus mit dem mit den Seelen Ermordeter betriebenen Leuchtfeuer), was aber bei einer Navigation durch eine von Gefühlen dominierten psionischen Paralleldimensionen auch nicht weiter schwierig ist.
Tränenatlanten sind Sammlungen besonderer Sternenkarten, die den Navigatoren der Navis Nobilite als Hilfsmittel dienen, wenn sie ihre Schiffe durch die tückischen Strömungen des Immateriums lotsen. Indem die Position der Herkunftswelt eines Psionikers, dessen Seele im Leuchtfeuer des Astronomicons verbrannt wurde, mit Tinte aus seinen aus Sehnsucht nach seiner Heimat vergossenen Tränen auf diesen Karten verzeichnet wird, kann ein Navigator sie als Fokus nutzen, um den Weg zu dieser Welt besonders leicht zu finden.
Die Häuser der Navigatoren hüten ihre Tränenatlanten eifersüchtig und sind bereit Höchstpreise für die notwendigen Tränen und Informationen zur Herstellung neuer Karten zu zahlen. Die wenigsten Atlanten enthalten dabei mehr als ein mit Tränen ehrlicher Sehnsucht und Heimwehs eingezeichnetes System.
Ein Navigator, der Zugriff auf einen echten Tränenatlas hat, erhält einen Bonus von +20 auf alle Würfe, die er als Teil der Navigation zu einem mit Tränen der Sehnsucht verzeichneten Zielsystem ablegt.
---
Games Workshop, Warhammer 40,000, Warhammer 40,000 Roleplay, Rogue Trader and all associated marks, logos, names, and products are Intelectual Property of Games Workshop Limited and protected by Copyright. These items have been used unofficially and quoted exclusively as reference with no infringement on any associated rights intended and without implying endorsement by the copyright holder. Other contents of this article are published without permission or license.
Games Workshop, Warhammer 40,000, Warhammer 40,000 Roleplay, Rogue Trader und alle zugehörigen Marken, Logos, Namen, und Produkte sind Geistiges Eigentum von Games Workshop Limited und urheberrechtlich geschützt. Diese Elemente wurden inoffiziell und ausschließlich als Referenz zitiert ohne die Absicht damit verbundene Rechte anzufechten und ohne eine Billigung durch den Rechteinhaber zu implizieren. Andere Inhalte dieses Artikels werden ohne Genehmigung oder Lizenz veröffentlicht.