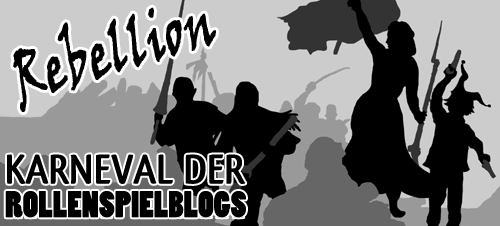 Rapid Fire war ein Comicspecial zu The Red Star, das 2013 im Geek Magazine erschien.
Was hat das aber mit Aufständen, Rebellionen, Unabhängigkeitskriegen zu tun?
Erstaunlich viel in meinen Augen.
Über den Zusammenhang zwischen The Red Star und Rebellionen haben yandere und ich uns im Karneval der Archive vor zwei Wochen schon unterhalten. Rapid Fire konkretisiert diesen Zusammenhang noch einmal, denn inhaltlich beschäftigt es sich auf seinen wenigen Seiten gleich mehrfach mit Rebellionen:
Mit dem Versuch friedlicher Revolution auf der Strasse und der brutalen Repression durch die Staatsgewalt,
mit der Rebellion der Ausführenden dieser Repression gegen ihre Befehle und Befehlshaber,
mit der Palastrevolution anderer Eliten gegen diese Befehlshaber (alternativ lässt sich das Geschehen auch so interpretieren, dass die Befehlshaber selber eine Palastrevolution versucht haben, die nun scheitert/in einem Gegencoup ausgeschaltet wird),
quasi nebenher wird als Mittel zum Zweck auch noch das Thema Drohnenkrieg mitgenommen,
und außerdem lernen wir einiges über Zauberei als Infanteriewaffe und sehen eine bunte Auswahl an Mecha in The Red Star.
Von den verschiedenen, über die Jahre hinweg erschienen The Red Star Comicspecials ist Rapid Fire damit auf jeden Fall das revolutionärste und eines der ausschlachtbarsten für die Rollenspielumsetzung.
Während dabei neue Fahrzeuge, Drohnenregeln, Protokolle und Protokollwaffen unsere übliche Kost wären, sind es aktuell natürlich speziell die ineinander geschachtelten Revolutionen und deren mögliche Umsetzung, die den ersten kurzen Blick verdienen.
The Red Star, mit seinen Vorschlägen zum Spiel auf Kommandoebene, bietet sich in meinen Augen auch dazu an, in einem solchen Szenario tatsächlich die verschiedenen Handlungsebenen gleichermaßen zu bespielen. Der offensichtliche Fokus – und auch der Fokus von Rapid Fire – ist selbstverständlich die Gruppe der Drohnenpilotzauberinnen, die sich weigern auf die Demonstranten zu schießen (beziehungsweise, die erst einmal entdecken, dass es sich gar nicht um eine Simulation handelt, und die sich dann weigern, zu schießen), aber die Handlungsträger der vorhergehenden, nachfolgenden und parallelen Ereignisse ließen sich ebenso abdecken. Die Frage ist also einmal mehr die nach dem Informationsfluß und der Bedeutung von fehlenden Informationen, Unsicherheit und der Möglichkeit zur Überraschung bei den Spielern (auch dieses Thema haben yandere und ich bei der Archivsichtung schon andiskutiert, allerdings im Rahmen eines anderen Themas).