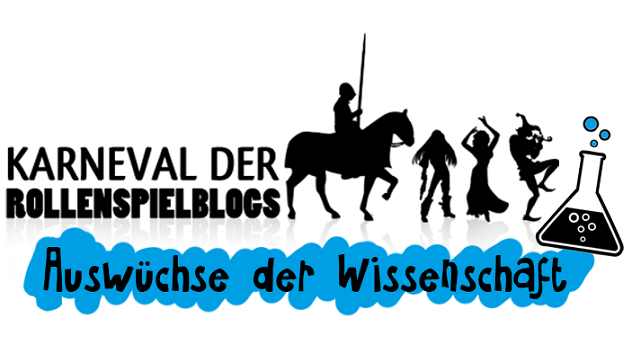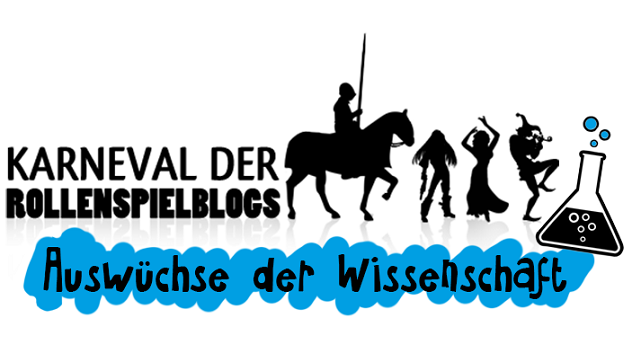 Der Karneval der Rollenspielblogs widmet sich im Mai "Auswüchsen der Wissenschaft".
Auswüchsen wie Metasilepin in SLA Industries, einer Substanz zur absichtlich nur kurzfristigen Unterdrückung von gewalttätigen Tendenzen.
Vorgeschlagen wurde das Thema von Nerd-Gedanken, die sich auch um die Organisation kümmert.
Metasilepin
Entwicklungsnotizen:
Und weiter geht es mit der SLA Industries-Psychiatrie. Metasilepin ist ebenfalls ein etwas älterer Entwurf, den ich auf der Suche nach der gestern präsentierten Gedächtnisabrasion zufällig wiederentdeckt habe. Da er das Thema noch einmal von einer dritten Seite angeht, dachte ich mir, es würde passen, ihn hier ebenfalls vorzustellen. Die geistige und seelische Verfassung von Charakteren wird bei sich selbst zum Horrorgenre rechnenden Spielen (wie eben auch SLA Industries) häufig besonders hervorgehoben, auch aber nicht nur von den Regeln her. SLA Industries sticht für mich hier auch deshalb hervor, weil es zusätzlich auch einen in gewisserweise sehr ambivalenten gesellschaftlichen Aspekt skizziert. Zum einen – aber das meine ich gerade gar nicht so sehr – beschreibt es ein völlig überlastetes öffentliches wie privates Gesundheitssystem (auch im Angesicht der – ja in vielen Spielen üblichen – verstandzerschmetternden Monstrositäten und Ereignisse) und macht sich so einige klassische Versatzstücke des Genres wie das überfüllte oder das verfallene "Irrenhaus", den weggeschlossenen Patienten oder die unmenschlichen Experimente und Therapien zu eigen. Zum anderen platziert es die Charaktere in einer Hierarchie (und zwar nicht etwa ganz unten, aber auch lange nicht ganz oben), so dass mögliche Beeinträchtigungen oder Veränderungen, die sie erfahren, niemals in Isolation geschehen sondern immer in Interaktion mit einem Umfeld und in einem System und zwar – und da ist die Position in den mittleren Ebenen der Hierarchie wichtig – sowohl nach "oben" als auch nach "unten", wobei das System in sich durch Ausgrenzung, Stigmatisierung, Mißtrauen gegenüber dem als psychisch abnorm Wahrgenommenen gekennzeichnet ist, es aber gleichzeitig feiert, fördert, verlangt – "Wahnsinn" als Karrierefaktor und als gläserne Decke. Und dieses Spannungsfeld ist der eigentliche Aufhänger der beiden bisher gezeigten Auswüchse der Wissenschaft für SLA Industries als auch von Metasilepin.
SLA Industries liebt seine Mörder. Trotz der an Heldenverehrung grenzenden Bewunderung, die selbst den brutalsten Schlächtern entgegen gebracht wird, so lange sie nur über eine Legitimation in Form einer SCL-Karte, Nitro-Legionärsuniform oder Circuit-Amnestie verfügen, haben die Verantwortlichen kein Interesse daran, die Strassen Morts mit psychisch labilen und gewaltbereiten Personen mit der Ausbildung und Ausrüstung (und oft genug der Lizenz) zum Töten zu bevölkern. Dies führt zu einem Dilemma, bei dem sich die als für den Einsatz in vielen Fällen als notwendig erachtete Enthemmung, die berechtigten Interessen der Medien an Einschaltquoten, und die Sorge um die Sicherheit und Unversehrtheit von Infrastruktur, Angestellten und Zivilisten gegenüberstehen.
Die Lösung des Dilemmas liegt in den Händen des Department of Psychology and Psychoses – und eine der Waffen in diesen Händen ist Metasilepin.
Dieses hocheffektive Neuroleptikum zeichnet sich durch zum einen durch seine Störungsspezifität, zum anderen durch seine schnelle Wirkung und kurze Halbwertszeit aus. Metasilepin wirkt gezielt gegen dissoziale Störungen und beseitigt so die Ursachen für gefährliches, gewaltätiges Verhalten in zivilem Umfeld – das Absetzen der Medikation lässt diese Tendenzen jedoch innerhalb kürzester Zeit in voller Stärke zurückkehren und schafft somit die Vorraussetzungen für erfolgreiche Kampfeinsätze. Nach deren Ende kehrt der Effekt des Metasilepins ebenso schnell zurück wie er verschwunden ist, sobald die Medikation wieder eingenommen wird.
Spieleffekte: Eine Dosis Metasilepin reduziert Ränge in Psychosis (Psychopathy) für 1 Stunde um 10 Punkte und für eine weitere Stunde um 5 Punkte. Während der gesamten Wirkungsdauer erleidet der Nutzer einen Abzug von -4 auf alle aktiven Aktionen.
Abhängigkeit: -1 PHYS pro 20 Dosen.
Entzugseffekte: -2 DIA permanent.
Abhängigkeit: 1 Dosis pro Tag.
Stress: –
Preis: 2c pro Dosis/40u pro Dosis (Schwarzmarkt).