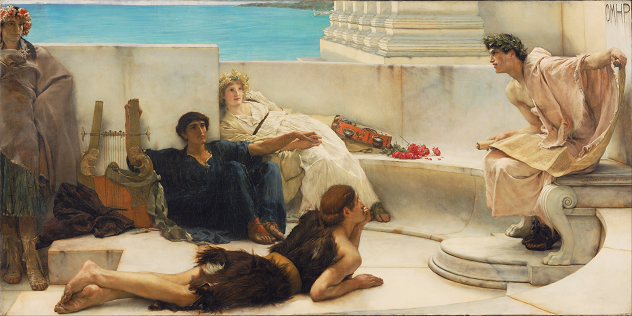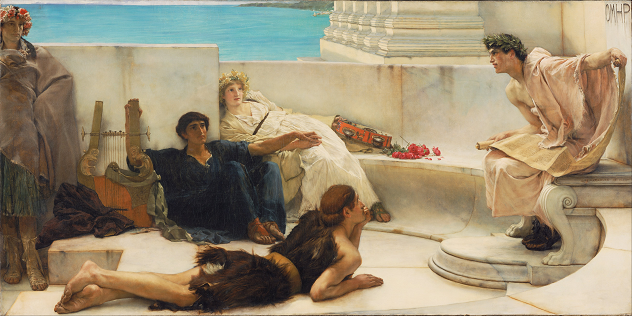 Homer-a-Day, Tag 2: Hekabe
Hekabe-Klasse Mutterschiff
Hekabe Mutterschiffe sind Relikte aus dem dunklen Zeitalter der Technologie. In den Jahrtausenden seit ihrer Konstruktion sind nicht nur die Baupläne dieser Klasse, sondern die technischen Grundlagen hinter dem Konzept des Mutterschiffs dem Vergessen anheim gefallen.
Gewaltig wie die Schiffe sind, besitzen sie doch kaum nutzbaren Raum oder Energie, sind langsam, schwerfällig, schlecht bewaffnet und gepanzert. Ein Hekabe Mutterschiff alleine mag wie eine nutzlose Fehlkonstruktion erscheinen, eine unverständliche Narretei der Altvorderen. Aber die Mutterschiffe waren nie dafür bestimmt, alleine zu operieren. All die Aufgaben, zu denen sie selbst nicht in der Lage sind, sollten stattdessen von ihren "Kindern" ausgeführt werden, denn die Hekabe-Klasse ist dazu in der Lage bis zu fünfzehn Schiffe von maximal Fregattengröße mit sich zu tragen. Warpantrieb und Gellarfeld des Mutterschiffes hüllen seine entlang der Außenhülle verankerten Kinder mit ein, so dass auf diese Weise auch nicht-warpfähige Intrasystemschiffe von einem Sonnensystem ins nächste befördert werden können – der wahre Zweck, für den die Hekabe-Klasse einst geschaffen wurde.
Regeln in der englischen Version des Artikels.
---
yandere: […] Homer-Wochen bei 40k.
blut_und_glas: […] Homer-a-Day?
Homer-a-Day – einen Monat lang jeden Tag einen Homer-inspirierten Artikel für Warhammer 40.000. Eingebrockt haben wir uns das dieses Mal selber, als wir bei der August-Archivsichtung über den Odysseus Pattern Astartes Greatbow gestolpert sind und uns in unserer Hybris zum oben zitierten Schwur verstiegen haben.
Don't uncork what you can't contain.
---
Image: A Reading from Homer by Sir Lawrence Alma-Tadema (1836–1912).
---
Games Workshop, Warhammer 40,000, Warhammer 40,000 Roleplay, Dark Heresy, Rogue Trader, Deathwatch, Black Crusade, Only War and all associated marks, logos, names, and products are Intelectual Property of Games Workshop Limited and protected by Copyright. These items have been used unofficially and quoted exclusively as reference with no infringement on any associated rights intended and without implying endorsement by the copyright holder. Other contents of this articles are published without permission or license.
Games Workshop, Warhammer 40,000, Warhammer 40,000 Roleplay, Dark Heresy, Rogue Trader, Deathwatch, Black Crusade, Only War und alle zugehörigen Marken, Logos, Namen, und Produkte sind Geistiges Eigentum von Games Workshop Limited und urheberrechtlich geschützt. Diese Elemente wurden inoffiziell und ausschließlich als Referenz zitiert ohne die Absicht damit verbundene Rechte anzufechten und ohne eine Billigung durch den Rechteinhaber zu implizieren. Andere Inhalte dieses Artikels werden ohne Genehmigung oder Lizenz veröffentlicht.