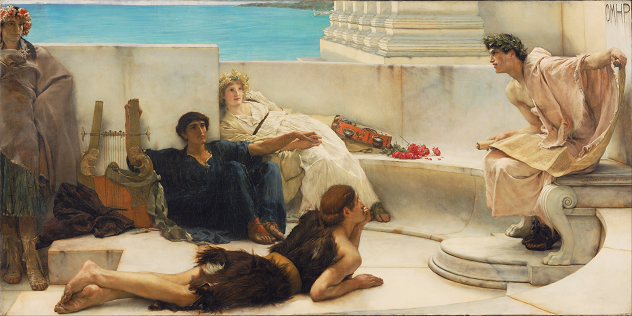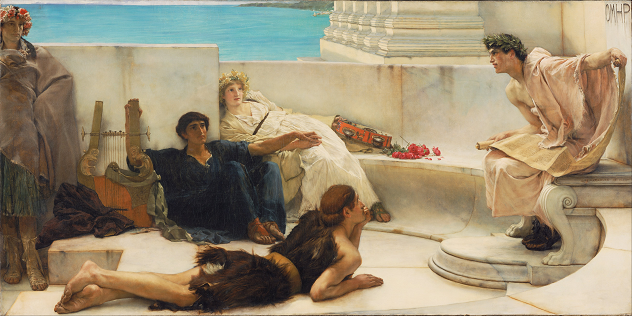 Homer-a-Day, Tag 11: Moly
Heiliges Moly
Moly ist ein seltenes Kraut, dessen gesamte Ernte überall in der Galaxis nach uralten Gesetzen einzig und alleine der Ekklesiarchie zusteht. Die Kirche des Gottimperator hat guten Grund, eifersüchtig auf die Einhaltung dieses Rechtes zu achten. Richtig behandelt und gesegnet, entfaltet Moly eine profunde Schutzwirkung gegen Psi-Kräfte und Hexenwerk, die Geist oder Körper der Gläubigen zu verderben suchen. Üblicherweise wird Moly dafür zusammen mit anderen Kräutern in Weihrauchschwenkern oder Kohlebecken verbrannt, es kann aber auch direkt eingenommen werden, was seine Wirkung noch potentiert.
Moly-Weihrauch verleiht allen Anwesenden in dem von Rauch geschwängerten Bereich einen Bonus von +10 auf alle Versuche, Psi-Kräften, Hexerei oder dämonischen Fähigkeiten zu widerstehen, die Körper oder Geist beeinflussen.
Die Einnahme einer Dosis Moly verleiht für 1W5 Stunden einen Bonus von +30 auf alle Versuche Psi-Kräften zu widerstehen und macht in dieser Zeit vollständig immun gegen Mutationen durch Warpkräfte und andere Körperveränderungen (wie beispielsweise biomantische Psi-Kräfte).
---
yandere: […] Homer-Wochen bei 40k.
blut_und_glas: […] Homer-a-Day?
Homer-a-Day – einen Monat lang jeden Tag einen Homer-inspirierten Artikel für Warhammer 40.000. Eingebrockt haben wir uns das dieses Mal selber, als wir bei der August-Archivsichtung über den Odysseus Pattern Astartes Greatbow gestolpert sind und uns in unserer Hybris zum oben zitierten Schwur verstiegen haben.
Don't uncork what you can't contain.
---
Image: A Reading from Homer by Sir Lawrence Alma-Tadema (1836–1912).
---
Games Workshop, Warhammer 40,000, Warhammer 40,000 Roleplay, Dark Heresy, Rogue Trader, Deathwatch, Black Crusade, Only War and all associated marks, logos, names, and products are Intelectual Property of Games Workshop Limited and protected by Copyright. These items have been used unofficially and quoted exclusively as reference with no infringement on any associated rights intended and without implying endorsement by the copyright holder. Other contents of this articles are published without permission or license.
Games Workshop, Warhammer 40,000, Warhammer 40,000 Roleplay, Dark Heresy, Rogue Trader, Deathwatch, Black Crusade, Only War und alle zugehörigen Marken, Logos, Namen, und Produkte sind Geistiges Eigentum von Games Workshop Limited und urheberrechtlich geschützt. Diese Elemente wurden inoffiziell und ausschließlich als Referenz zitiert ohne die Absicht damit verbundene Rechte anzufechten und ohne eine Billigung durch den Rechteinhaber zu implizieren. Andere Inhalte dieses Artikels werden ohne Genehmigung oder Lizenz veröffentlicht.