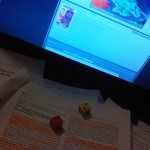 Der Audiokommentar zu "Hot Fuzz" ist mit Abstand der einsichtsreichste, den ich jemals gehörrt habe. Klug, witzig und ehrlich: Alles, was ich mir jemals von einem Audiokommentar erhoffe. Das letzte Rollenspielbuch, das ich in den Händen gehalten habe war leider gänzlich anders.
Ich erwähne das, weil ich gerade versuche meine Bachelorarbeit zu Ende zu stellen. "Versuche", da meine Gedanken anfangen entlang zu wandern und ich nach einer 6-ständigen Lese-und-Schreib-Sitzung eine Pause brauche.
Selbstverständlich lässt mich meine Arbeit auch dann gedanklich nicht in Ruhe, sodass ich anfange alle meine Rollenspiel-Gedanken auseinanderzunehmen und zu analysieren.
Ich frage mich, wie ich auf bestimmte Gedanken gekommen bin, wie sie sich zu anderen Ideen und den Ideen anderer verhalten und ob ich meine "Meta-Gedanken" zu meiner eigentlichen Idee mit aufschreiben sollte.
Als Leser gefallen mir solche Werke eigentlich recht gut, die ihren eigenen Referenzrahmen gleich mitliefern. "Feng Shui" beispielsweise bietet am Ende des Buches eine Liste mit allen Werken, die dem Autor als Inspiration gedient haben. Damit stellt der Autor gleich die "Redewendungen" und das übliche Drumherum des Genres zur Verfügung.
Zum einen tritt der Autor damit in ein Gespräch mit mir über sein Werk und reduziert die Möglichkeit, dass ich ihn missverstehen könnte. Zum anderen – und viel wichtiger – erlaubt mir der Autor seine Vision klarer wahrnehmen zu können und erleichtert mir das Leben als Spieler damit ungemein. In "Feng Shui"s Fall erleichtert die Quellenangabe am Ende des Buches das erstellen von Abenteuern, NSCs, SCs und Grundrissen von Nudel-Restaurant, in denen gekämpft werden soll.
In wissenschaftlichen Arbeiten, wird erwartet die Quellen zu jeder Behauptung zu hinterlegen. Auf diese Art kann der Leser die Information nachverfolgen und sich am wissenschaftlichen Diskurs beteiligen.
Da viele Rollenspielprodukte ohnehin vieles offenlegen, das als Inspiration diente, wäre der nächste Schritt ein Spiel vollständig mit derartigen Referenzen zu hinterlegen.
In seiner extremsten Ausprägung würde das bedeuten, ein mittelalterliches Fantasy-Setting mit tatsächlichen historischen Quellen und anderen geschichtswissenschaftlichen Arbeiten zu belegen und zu verbinden. Ähnliches gilt für ein Science Fiction Setting, welches den wissenschaftlichen Aspekt ernst nimmt.
Ein realisischer und pragmatischer Ansatz wäre darin zu finden, den Autor Anmerkungen zu seinem Werk machen zu lassen. Darin würde der Autor andere Arbeiten, die ihn inspiriert haben, würdigen und den Schreibprozess offen legen.
Oder vielleicht auch nicht. Die meisten Rollenspiel-Stümper sind ohnehin wahrscheinlich zu faul oder geheimnistuerisch in ihrer Arbeit. Was soll's.
Diese Woche gibt es einen gemeinschaftlich erarbeiten Artikel unserer Autoren zu lesen, sowie einen Beitrag von blut_und_glas.
Deutsche Artikel:
Am Dienstag präsentiert uns blut_und_glas Die Unwägbarkeiten des Schicksals, die es in der Welt von Warhammer 40.000 auszuhalten gilt.
Donnerstag beschreibt Fear and Loathing in Los Muertos die Vielfalt an Drogen und Medikamenten, hergestellt von SLA Industries.
Englische Artikel:
The Vagaries of Fate ist das englische Original zu dem deutschen Wahrhammer 40.000 Artikel, veröffentlich am Montag.
Freitag wenden wir uns den Pillen und Wundermittelchen in SLA Industries zu, wenn Fear and Loathing in Los Muertos umgehen.
Hasran