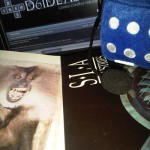 Seht ihr, ich bekomme nicht allzu viele Emails and so wird jede einzelne ein Bündel wohliger Gefühle und Erinnerungen.
Als ich letzte Woche mein Mail-Programm anschmeiße, bekomme ich diese nett aussehnde und nach Lilien duftende Mail, aber als ich sie öffne, schreit mir mein Mail-Client entgegen: »Schreib das nächste verdammte Editorial, Techäffchen, sonst setzt es was.«
Also mache ich das, was jeder guterzogene und verantwortungsvolle Affe tun würde: Ich schmeiße eine Handvoll Scheiße Richtung Monitor, kratze meinen Waschbärbauch und wende mich dringenderen Dingen wie Entlausungstechniken zu.
Nach einer Weile, beschließt mein Mail-Programm dass ich genug gelümmelt hätte und schreibt: »Sei ein gutes Techäffchen, mach es und mach jugendfrei, oder…« in feurigen Buchstaben an der Wand meiner Höhle.
Natürlich fange ich an, mir Sorgen zu machen, ich meine was würdest Du tun, wenn Euer Mail-Client anfängt alt-testamentarisch zu werden. Abwarten bis man gesteinigt, von Blitzen getroffen oder aufgefordert wird, seinen Erstgeborenen zu opfern? Abgesehen davon, dass ich bereits meinen Erstgeborenen opfern musste, um den Job zu bekommen, sind die Alternativen alles andere als verlockend.
Also sitze ich jetzt hier und haue etwas in die Tasten, was Euch gefallen könnte…
Ich könnte bespielsweise über das wunderschöne Berliner Klima lamentieren, dieses Unding, was sie einem versuchen als Sommer zu verkaufen und dann wenn man sich umdreht, dringend nach lange Unterhosen suchen muss, weil ansonsten die Familienplanung Gefahr läuft, den Bach runterzugehen…
Ich kann Dir allerdings etwas über den Technik-MumboJumbo der Seite erzählen… Ist Euch schonmal das gar nich mal so subtil versteckte [ALPHA] in unserem Logo aufgefallen? In den kommenden Monaten werden Du und ich zahlreiche Änderungen an der Seite miterleben, kleine -und gar nicht mal so kleine – Schritte, die irgendwann mal zu einer Version führen, die uns alle zufriedenstellen wird. Und deshalb kannst Du uns jederzeit mailen, die Kommentarfunktion nutzen und am Forum partizipieren, wenn Du Ideen, Verbesserungsvorschläge und Kritik für die Seite oder die Artikel hast. Das würde den grauen Herren hinter der Seite gefallen, flüstern sie mir nachts zu. Und dann muss ich vielleicht auch nicht meine Katze opfern, um den Job zu behalten, was mich wiederum glücklich machen würde und ich mag es ein glücklicher Affe zu sein.
Und wenn wir gerade schon von glücklich, zufrieden und dem restlichen Kram reden – siehst Du, dass nennen wir hier unten einen subtilen Übergang – wir haben diese Woche zwei fluffige Artikel mit dem genau richtigen Sprenkler Crunch auf ihnen.
Am Montag wird Prime ein Problem angehen, was zahlreiche Runden plagt, die ich kenne, und über en Detail über Soziale Konflikte – im Spiel selbst, nicht den Runden – im Spiel reden und dabei zahlreiche Lösungsansätze anbieten, die ein für alle Mal, den Deckel auf den ewigen Hotspot setzen sollte.
Hast Du jemals darüber nachgedacht, wie Rassismus in der World of Progress sich entwickeln könnte? Nogger hat darauf die Antwort und serviert uns einen Artikel über das "Killed Corpse", in dem eine Handvoll Menschen plant, die Menschheit vor diesen gottverdammten Aliens zu retten.
Also passt auf Euch auf, habt Spass und macht das Äffchen glücklich…