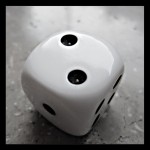 Eine kurze Frage gefolgt von der (kurzen) Liste unserer übrigen Artikel im Mai.
Ich bin gerade mit der begeisterten wiederholten Lektüre von The Maxx (Wikipedia) fertig geworden.
Wie vermutlich viele Rollenspieler leide ich an der Krankheit unter solchen Umständen das gerade Gelesene gleich ins Spiel umsetzen zu wollen.
Ich baue allerdings darauf, dass der Anfall demnächst vorübergeht.
Aber ganz aktuell habe ich folgendes Problem:
Womit setze ich das angemessen um?
Vorschläge nehme ich dankend entgegen. (Bitte keine Verweise auf Heroes & Heroines.)
Die letzten beiden Mai-Artikel (viele Zweien auf dem Würfel diesen Monat…):
Deutsche Artikel
Am Donnerstag stellt yennico die Was ist …?-Frage.
Englische Artikel
Am Dienstag kommt nicht The Maxx, aber immerhin das d20 MAKS. Eine kurze Hausregelsammlung für Flugzeuge im d20 Modern Fahrzeugsystem.