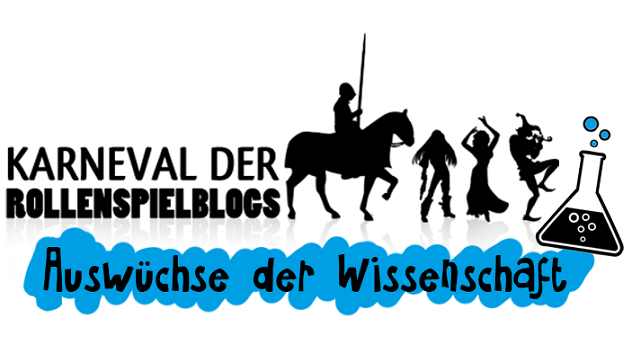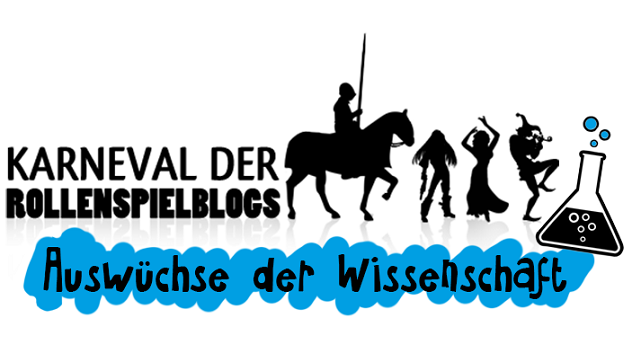 Der Karneval der Rollenspielblogs widmet sich im Mai "Auswüchsen der Wissenschaft".
Auswüchsen wie Bioprotokol in The Red Star, einem Teil des Biowaffenprogramms der UdRRS.
Vorgeschlagen wurde das Thema von Nerd-Gedanken, die sich auch um die Organisation kümmert.
Bioprotokol
Entwicklungsnotizen:
Ich wollte The Red Star auch einmal einen Auswuchs ohne Bezug zur Geisterwelt spendieren. Die Spielwelt kann schon noch andere Sachen. Und biologische Kriegsführung fällt definitiv unter Auswüchse der Wissenschaft. Der Name ist natürlich angelehnt an Биопрепарат, eine der Institutionen der biologischen Kriegsführung in der Sowjetunion. Da Zauberei in der Welt von The Red Star im gesamten wissenschaftlichen und militärischen Bereich allgegenwärtig scheint, erschien mir ein neues Komposit mit "Protokol" (hier absichtlich mit nur einem L – wie in Протокол), was bei The Red Star Zauberei impliziert, als Name ganz passend. Ein tatsächliches Protokoll, also einen industriellen Zauberspruch, wollte ich allerdings nicht konstruieren (obwohl das relativ einfach wäre: Medikaster, niedriger Kasting-Schaden, kein Rettungswurf oder Resistenz, kurze Reichweite, Ziel ein Pathogencontainer, lange Dauer, und als Effekt steigt der SG gegen die Krankheit und kann per Overkasting noch weiter erhöht werden – alternativ vielleicht auch erhöhter Schaden durch die Krankheit als Haupteffekt und SG-Steigerung nur über Overkasting… oder gleich mehrere Protokolle, eins für SG, eins für Schaden, dann noch eins für Vektor und eins für Inkubationszeit…), sondern eigentlich nur sehr kurz die Organisation vorstellen (eher: erwähnen) und etwas allgemeines zu den von ihr hergestellten Waffen schreiben. Kurz hatte ich auch mit dem Gedanken gespielt, statt "normaler" Biowaffen ein klassisches Wut- oder Zombievirus zu präsentieren, die werden ja gerne auch als (außer Kontrolle geratene/geratende) militärische Waffenentwicklungen imaginiert (auch das wäre übrigens einfach: Krankheitsprofil und bei mißlungenem Rettungswurf gibt es sukzessive irgendeinen Schaden, sagen wir Charisma, und wenn es auf Null fällt, dann wird das Boogeyman- oder das Maniac-Template auf den Infizierten aufgeschraubt (wobei ich persönlich Boogeyman besser fände), sobald das passiert regeneriert dann gegebenenfalls auch direkt wieder der Charismaschaden).
Bioprotokol war eine nominell zivile Behörde der mikrobiologisch-medizinisch-magischen Forschung in der UdRRS, deren geheime Hauptaufgabe jedoch die Erforschung, Entwicklung und Produktion von biologischen Waffen für die Rote Flotte und das Kommissariat war.
Pathogene aus den Labors und Arsenalen von Bioprotokol haben einen um +1 bis +3 höheren SG als ihre Wildbahnäquivalente und teilweise ist ihr Schaden um einen Würfeltyp größer.
Neben dieser Arbeit an bekannten Erregern soll Bioprotokol sich angeblich auch mit gänzlich neuen und esoterischeren Biowaffen beschäftigt haben. Die Spur dieser Projekte – wenn sie jemals existiert haben sollten – verliert sich allerdings mit der offiziellen Auflösung der Behörde nach dem Fall der UdRRS.
---
The Red Star and all related characters are ™ and © Christian Gossett. Used with kind permission.
The Red Star Campaign Setting is © Green Ronin Publishing, LLC.
The Red Star und alle verwandten Charaktere sind ™ und © Christian Gossett. Verwendet mit freundlicher Genehmigung.
The Red Star Campaign Setting ist © Green Ronin Publishing, LLC.