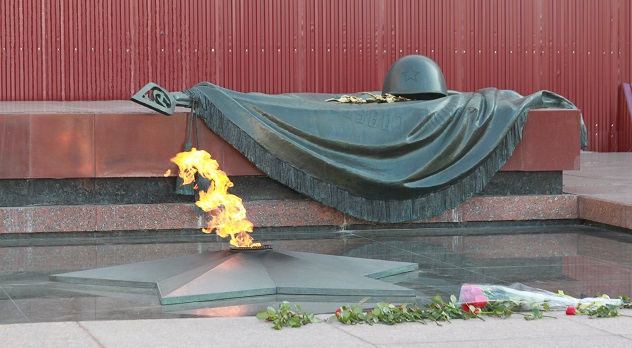 22. Juni 2016.
Der Tag schreit nach einem The Red Star-Artikel.
Nur – was schreiben?
Das Thema des Erinnerns hat mich schon so häufig umgetrieben, dass mir jetzt nichts dazu einfallen mag. Gegen die scheinbar nahe liegende Möglichkeit, an diesem Tag einen Artikel in irgendeiner Form den Fantasy-Zerrspiegelversionen des sogenannten Dritten Reiches, des deutschen Faschismus und der Wehrmacht zu widmen, verwehre ich mich. Zumal außerhalb eines "historischen" The Red Star-Szenarios, das die Epoche des Großen Vaterländischen Krieges für das Spiel aufschließen und dann folgerichtig auch das Volksreich – das Deutschland der Welt von The Red Star – behandeln müsste, ein solcher Artikel fast zwangsläufig den Adelsschlag der fortgesetzten Bedrohung, der ungebrochenen Bedeutung mit sich bringen würde – bis in die Gegenwart des Spiels hineinwirkende unsterbliche Nazis, überlegene Nazitechnik, und geheime Nazibasen sind aber nicht nur nichts, was ich mir heute ausmalen möchte, sie sind generell nichts, was ich in The Red Star haben möchte.
Ich glaube, am ehesten steht mir der Sinn nach etwas… versöhnlichem ist nicht das richtige Wort. Es verfolgt mich aber, weil The Red Star als ganzes etwas versöhnliches für mich an sich hat. Ich möchte das jetzt nicht zu einer falschen Ikone der Völkerverständigung überstilisieren, aber die Tatsache, dass ich in Deutschland mit russischen Freunden die Rollenspielumsetzung eines US-amerikanischen Comics über eine Fantasy-Sowjetunion (inspiriert von dem Respekt und der Wertschätzung gegenüber seinen verbündeten Kameraden aus dem zweiten Weltkrieg, die der Vater des Autors seinem Sohn vermittelte) spielen kann, und dieses Spiel dabei von Hause aus (also ohne all das krude Zusatzmaterial, das wir hier auf dem Blog produzieren) so angelegt ist, dass ich als Spieler gleichermaßen sowjetische und später russische Soldaten, Dissidenten und politische Häftlinge, afghanische Mudschaheddin und tschetschenische Rebellen (beziehungsweise deren Fantasyäquivalente) spielen kann, doch, diese Tatsache trägt gefühlt etwas in sich versöhnliches in sich.
Erinnern.
Und da ist nun doch eine Idee zu diesem Thema. Eine kleine, leise Geste im und für das Spiel:
An einem Ort des Erinnerns an einen Krieg und dessen Gefallene, beispielsweise an einem Grab des Unbekannten Soldaten, werden Charaktere, die Loyalitäten (Allegiances) zu unterschiedlichen Kriegsparteien dieses Krieges besitzen, so behandelt, als hätten sie die gleichen Loyalitäten. Im Angesicht des Mahnmals erhalten sie dementsprechende Boni auf Charisma-basierende Fertigkeiten.
---
Image by moscowjob.net – http://moscowjob.net/2014_Moscow_Tomb_of_the_Unknown_Soldier_2.JPG
2014 Moscow Tomb of the Unknown Soldier Москва Могила неизвестному солдату. Вечный огонь. Александровский сад.
Under CC BY-SA 4.0
The Red Star and all related characters are ™ and © Christian Gossett. Used with kind permission.
The Red Star Campaign Setting is © Green Ronin Publishing, LLC.
The Red Star und alle verwandten Charactere sind ™ und © Christian Gossett. Verwendet mit freundlicher Genehmigung.
The Red Star Campaign Setting ist © Green Ronin Publishing, LLC.