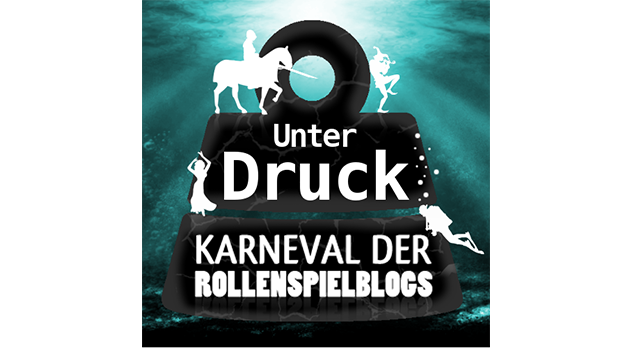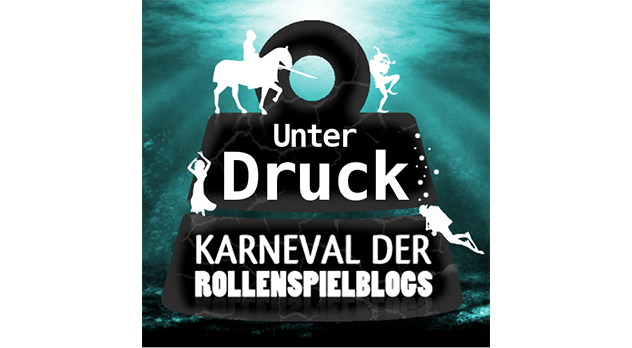 Für das von Clawdeen organisierte Karneval der Rollenspielblogs-Thema "Unter Druck!" haben wir uns auf thematische Ausrüstungsgegenstände verlegt, mit dem Plan zumindest einen für jedes "unserer" Standardsysteme zu präsentieren. Für Blue Planet, Warhammer 40.000, SLA Industries und Unknown Armies war das einfach.
Bei The Red Star taten sich allerdings unerwartete Schwierigkeiten auf. U-Boote? Für Jagd auf Roter Oktober gibt es in The Red Star Luftschlachtschiffe (und überhaupt werden U-Boote und Schiffe in Comics, Campaign Setting und Begleitmaterial nur sehr am Rande erwähnt). Weltraum? Auch nur ein marginales Thema. Druckanzug? Ohne U-Boote und Weltraum? Transpathischer Druck? Also irgendetwas mit Gedankenübertragung und vielleicht dadurch ausgelöstem Schaden… Druck im Kopf… bloß wäre das keine Ausrüstung… vielleicht eine Maschine, die das auslöst. Das wird langsam weit hergeholt. Druck durch Vorgesetzte/das Kommissariat/die Partei? Da wären wir bei sozialem/psychischen Druck, also auch keine Ausrüstung (gäbe aber auf jeden Fall eine gute Zusatzregel und/oder Fähigkeit ab). Waffen für den Unterwassergebrauch? Würde sich wie eine Wiederholung des Deathwatch-Artikels anfühlen.
Zum Glück hat Clawdeen selbst im ersten Beitrag des Karnevalbegleitthreads im RSP-Blogs-Forum (und in ihrem Einführungsartikel) auch noch folgende Interpretation des Themas angeboten:
"[…] oder was zu dampfbetriebenen Kreaturen, Konstrukten, Warjacks, Fahrzeugen und Co."
Dampfgetrieben. Fahrzeuge. The Red Star.
Echelon Panzerzug
Skyfurnace und Overstriker mögen in ihrer Bedeutung die faktischen Erben der gewaltigen Panzerzüge der Revolution sein, aber ihre direkten Nachfolger befahren immernoch die endlossen Bahntrassen die über – und unter – den Ländern des Roten Sterns verlaufen.
Die modernen Panzerzüge der Roten Flotte orientieren sich dabei allerdings eher an den leichten Eskortenlokomotiven, die die einstigen Schienenschlachtschiffe begleiteten, denn an diesen rollenden Militärstädten selbst. Aber Fortschritte in der Waffentechnik machen diese jüngsten Generationen trotz ihrer vergleichsweise geringen Größe ihren Ahnen wenigstens ebenbürtig.
Allerdings setzt die Rote Flotte Panzerzüge schon lange nicht mehr als Kampfeinheiten zur unmittelbaren Verwendung an der Front ein, auch wenn sie weiterhin über entsprechende Bewaffnung und Panzerung verfügen. Stattdessen sollen Züge wie die der Echelon-Bauart als mobile Hauptquartiere und Stützpunkte für Garnisons- und Grenztruppen dienen, mit strategischen Raketenkomplexen ausgestattet das nukleare Zweitschlagspotential garantieren, mittels Stratosphärenartillerie den Luftraum im rückwärtigen Bereich der eigenen Fronten sichern oder für den optimalen Schutz von Nachschubwegen sorgen.
Bei den Kämpfen im Nokgorka kamen vor allem durch die letzte Aufgabe den Eisenbahntruppen und ihren Panzerzügen eine unerwartet hohe Bedeutung zu, auf die viele der Einheiten nur schlecht vorbereitet waren.
Die Regeln und Werte für Echelon-Panzerzüge finden sich in der englischen Version des Artikels.
---
Fahrzeuge gibt es in diesem Karneval übrigens auch bei Aus den Schatten. Dort allerdings U-Boote für Shadowrun und keine Züge für The Red Star.
---
The Red Star and all related characters are ™ and © Christian Gossett. Used with kind permission.
The Red Star Campaign Setting is © Green Ronin Publishing, LLC.
The Red Star und alle verwandten Charaktere sind ™ und © Christian Gossett. Verwendet mit freundlicher Genehmigung.
The Red Star Campaign Setting ist © Green Ronin Publishing, LLC.