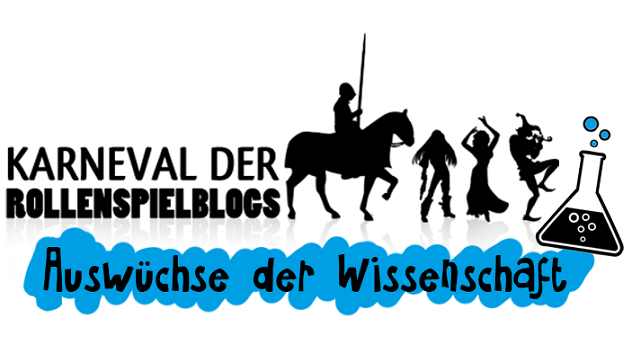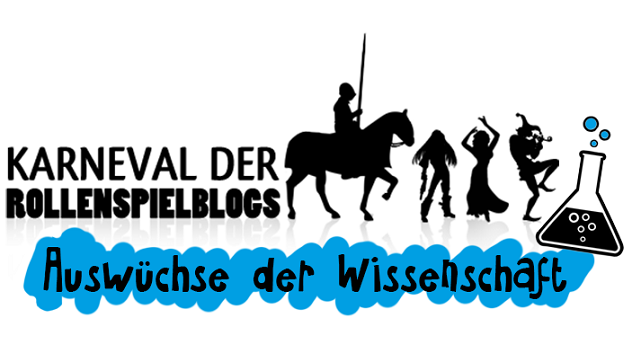 Der Karneval der Rollenspielblogs widmet sich im Mai "Auswüchsen der Wissenschaft".
Auswüchsen wie dem Unsterblichkeitsschock in The Red Star, der der Privatwirtschaft das Jenseits erschließt.
Vorgeschlagen wurde das Thema von Nerd-Gedanken, die sich auch um die Organisation kümmert.
Unsterblichkeitsschock
Entwicklungsnotizen:
Das Thema der Geisterwelt und ihrer wissenschaftlich-industriellen Erschließung lässt mich nach wie vor nicht los. Die Idee beim Unsterblichkeitsschock war es allerdings, mich ihm zumindest einmal aus einer anderen Richtung zu nähern. Statt wie bei den vorherigen Karnevalsbeiträgen zu The Red Star in diesem Monat geht es also nicht darum, mit welchen Mitteln Geister bekämpft, versklavt und ausgebeutet werden, sondern ganz im Gegenteil um die Loyalität von Unsterblichen – um die Frage, wie sie sichergestellt werden kann. Ebenfalls im Gegensatz zu den früheren Artikeln gibt es bei diesem hier keinen Regelanteil, es ist einfach nur ein kurzer Hintergrundtext.
Schon während des kalten Krieges waren im transnationalistischen System des Westens nicht nur staatliche Organisationen wie das BCI in die Operationen in der Geisterwelt eingebunden, sondern auch privatwirtschaftliche Akteure. Nach dem Fall der UdRRS verstärkte sich diese Tendenz nur noch weiter. In der veränderten politischen Situation rückte für die in der Geisterwelt engagierten Konzerne die Frage nach eigenen unsterblichen Agenten und Vertretern immer weiter in den Vordergrund. Die starken Bindungen, die die große ideologische Auseinandersetzung hervorgebracht hatte, und deren Bestand über den Tod hinaus die Rekrutierungsgrundlage für Geisteragenten dargestellt hatten, begannen zu wegzubrechen und waren auch nicht mehr beliebig vom Staat auf die Konzerne zu übertragen. Geld und Annehmlichkeiten, mit denen sich die Unternehmen die Loyalität von Sterblichen kaufen konnten, verloren im Jenseits ihren Wert. Das Problem wurde als so gravierend angesehen, dass gewaltige Summen in die Forschung investiert wurden, um eine Lösung zu entwickeln. Die resultierenden Programme einzelner Konzerne tragen zwar unterschiedliche offizielle Bezeichnungen, unter Eingeweihten hat sich aber allgemein die Bezeichnung "Unsterblichkeitsschock" für die sich nur in Details unterscheidenden Prozeduren verbreitet.
Das Kernkonzept des Unsterblichkeitsschocks besteht darin, den ausgewählten Kandidaten in eine schwere persönliche Krise zu stürzen, die ihn seiner vorhandenen Bindungen möglichst schlagartig beraubt, und nur Kollegen und Vorgesetzte als letzte feste Bezugspersonen erscheinen lässt… …und ihn kurz darauf zu töten. Der emotionale Schock soll dabei verhindern, dass sich der Kandidat im Jenseits in einen weitgehend willen- und persönlichkeitslosen blassen Schatten verwandelt, sondern stattdessen zum Unsterblichen wird, während das Fehlen anderer Bezugspunkte als Unternehmensvertretern den neuen Unsterblichen zunächst auf eine fortgesetzte Tätigkeit für den Konzern polen soll, was später durch geeignete andere Anreize verstärkt oder ersetzt werden kann.
Die Fehlerquote des Verfahrens ist hoch, aber noch verspricht es bessere Ergebnisse als alle anderen bisherigen Ansätze.
---
The Red Star and all related characters are ™ and © Christian Gossett. Used with kind permission.
The Red Star Campaign Setting is © Green Ronin Publishing, LLC.
The Red Star und alle verwandten Charaktere sind ™ und © Christian Gossett. Verwendet mit freundlicher Genehmigung.
The Red Star Campaign Setting ist © Green Ronin Publishing, LLC.