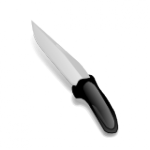 Das "Folding Knife" – in manchen Aussagen auch als "blutendes Messer" tituliert – ist angeblich ein Kult-Artefakt, das in der Lage sein soll "durch Raum und Zeit zu schneiden", um entfernte Orte zu erreichen. Von Analysten werden diese Berichte mit den bekannten Effekten zur Raumfaltung durch Reality Folding Ebbkräfte verglichen.

Ob ein solches Artefakt tatsächlich existiert, ist allerdings extreme umstritten, zumal Spezialisten des Department of Ebb, die im Rahmen eines ausgedehnten Jade-BPNs Orte und Vorfälle, die mit dem Messer in Verbindung gebracht wurden, untersuchten, nie auch nur die geringste Spur von Fluxanwendung finden konnten.
Nichts desto trotz haben sowohl das Department of Ebb als auch die Cloak Division, zusammen mit anderen, schattenhafteren Elementen des SLA Industries Sicherheitsapparats, das Messer mit Prioritätsstatus auf ihre Kultfahndungslisten gesetzt. Sie folgen allen Hinweisen, die auftauchen, und haben für die Erbeutung der Klinge oder auch nur belastbare Beweise für ihre Existenz eine substantielle Belohnung ausgesetzt.
Spieleffekte
Das "Folding Knife" zählt im Kampf als gewöhnliches Messer.
Ein Charakter kann das Messer allerdings auch benutzen, um die Luft – oder genauer gesagt den Raum – vor sich anzugreifen, und so eine klaffende Wunde in die Realität zu schneiden. Falls der Angriff erfolgreich ist (wofür der übliche Wurf von 11+ benötigt wird), manifestiert sich sofort ein Effekt, der einer Reality Fold Ebb-Anwendung entspricht. Der Rang dieses Effekts ist gleich dem verursachten Schaden des Angriffs. Dieser Effekt ist nicht mit FLUX-Kosten verbunden. Konzentration ist nicht notwendig.
Beispiel
Ein in die Enge getriebener Kultist versucht das Folding Knife zu benutzen, um einer Gruppe von Operatives zu entkommen. Der Kultist hat Stärke 6 (Schadensbonus 2) und die Fertigkeit einhändige Klingen auf Rang 5. Er benutzt seine nächste verfügbare Initiativphase, um den Raum anzugreifen. Er würfelt eine 16, womit er ein Endergebnis von 21 für den Angriff erzielt. Der Schaden berechnet sich demnach wie folgt: 1 (für den Grundschaden eines normalen Messers) +2 (Stärke-abhängiger Bonus) +1 (für einen Angriffswurf 1 Punkt über 20) = 4. Das Messer manifestiert dementsprechend einen Rang 4 Reality Folding-Effekt. Dabei handelt es sich um Jump Port 4, was dem Kultisten erlaubt ein Objekt zu sich hin zu teleportieren, ihm aber leider wenig für seine Flucht nutzt. In seiner nächsten Initiativphase versucht er es also noch einmal, während die Operatives vor seiner Tür sich bereit machen, zu stürmen …
Die Benutzung des "Folding Knife" hinterlässt keine mit Detect Ebbkräften nachweisbaren Spuren.
Ein Charakter, der mit ansieht wie das "Folding Knife" den Raum zerteilt, erleidet Stress (1 AS, 2 PS). Für Mitglieder der Ebon-Rassen ist dieser Anblick besonders verstörend, und sie erleiden daher zusätzliche 2 PS.
Es ist keine spezielle Fertigkeit, Kraft oder Ähnliches notwendig, um das "Folding Knife" zu benutzen.
---
SLA Industries and all associated names are the Intellectual Property of Dave Allsop and/or Nightfall Games and protected by Copyright. These items have been used unofficially and quoted exclusively as reference with no infringement on any associated rights intended and without implying endorsement by the copyright holder. Other contents of this articles are published under the following license:
Creative Commons Attribution-Share Alike 3.0 License
SLA Industries und alle verbundenen Namen sind Geistiges Eigentum von Dave Allsop und/oder Nightfall Games und urheberrechtlich geschützt. Diese Elemente wurden inoffiziell und ausschließlich als Referenz zitiert ohne die Absicht damit verbundene Rechte anzufechten und ohne eine Billigung durch den Rechteinhaber zu implizieren. Andere Inhalte dieses Artikels werden unter folgender Lizenz veröffentlicht:
Creative Commons Namensnennung-Weitergabe unter gleichen Bedingungen 3.0 Lizenz